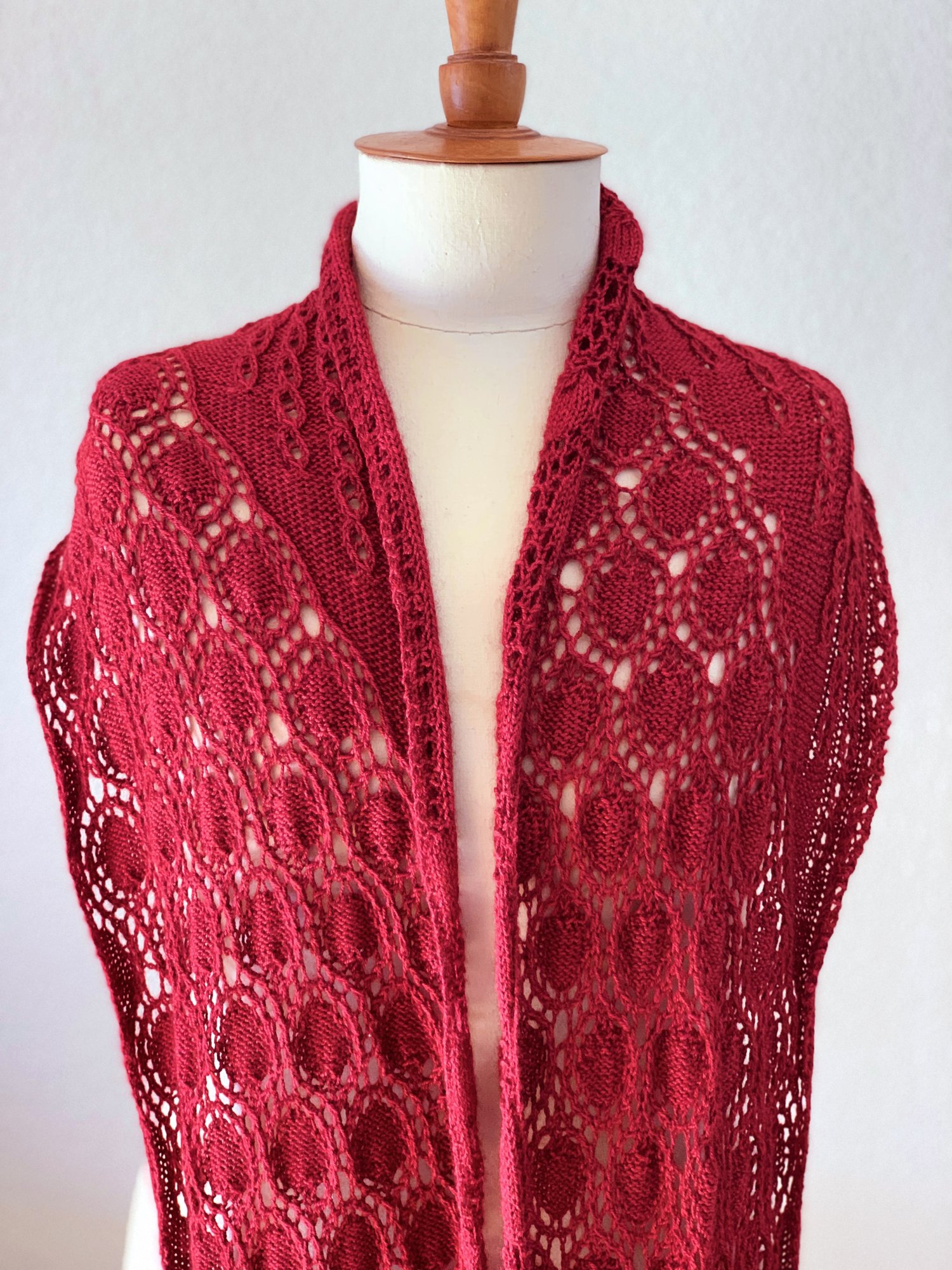 Sprezzatura lace scarf
On Sale
€7.00
Sprezzatura uses a dynamic combination of two relatively simple lace patterns to create a striking effect. The way dominance shifts between the two stitches does demand that you pay attention while knitting, but the pay-off is effortless elegance. Just toss it around your neck knowing however it falls, there will be plenty of visual interest and no fuss. 
The scarf starts with a lace rib; then the circles pattern (based on Barbara Walker's Sunspots) emerges on the right and gradually spreads over the full width, before retreating as the lace rib returns from the right. Then the entire arrangement is repeated in the second half.
Sprezzatura is worked in a magnificent blend of merino, silk and yak fibres, giving warmth, depth of colour and a rich gleam. Testers have also made beautiful versions using lace-weight yarn.
Note: I developed a special 3-in-1 increase for this pattern, which I haven't been able to find anywhere else. The benefit is that it creates a neat, enlarged hole right beneath the increase, resulting in more clarity in the lace. The consensus among testers was that it is worthwhile and not overly complicated, but any 3-in-1 increase (such as k, yo, k) will work.
Sizing: One size, 193cm / 76in x 27cm / 10.5in.
Materials: 732m / 800yds of fingering weight yarn. Sample uses 2 skeins of Ophelia Sock by Posh Yarn (60% merino / 20% yak / 20% silk) in Robynn's Red.
Needles size 3.5mm / US #4
Blocking pins, stitch markers for marking repeats (optional), yarn needle for darning in ends
Gauge: 26 sts x 26 rows in blocked lace pattern.
Challenge level: Somewhat demanding. Testers said it wasn't difficult, but did require close attention and patience!