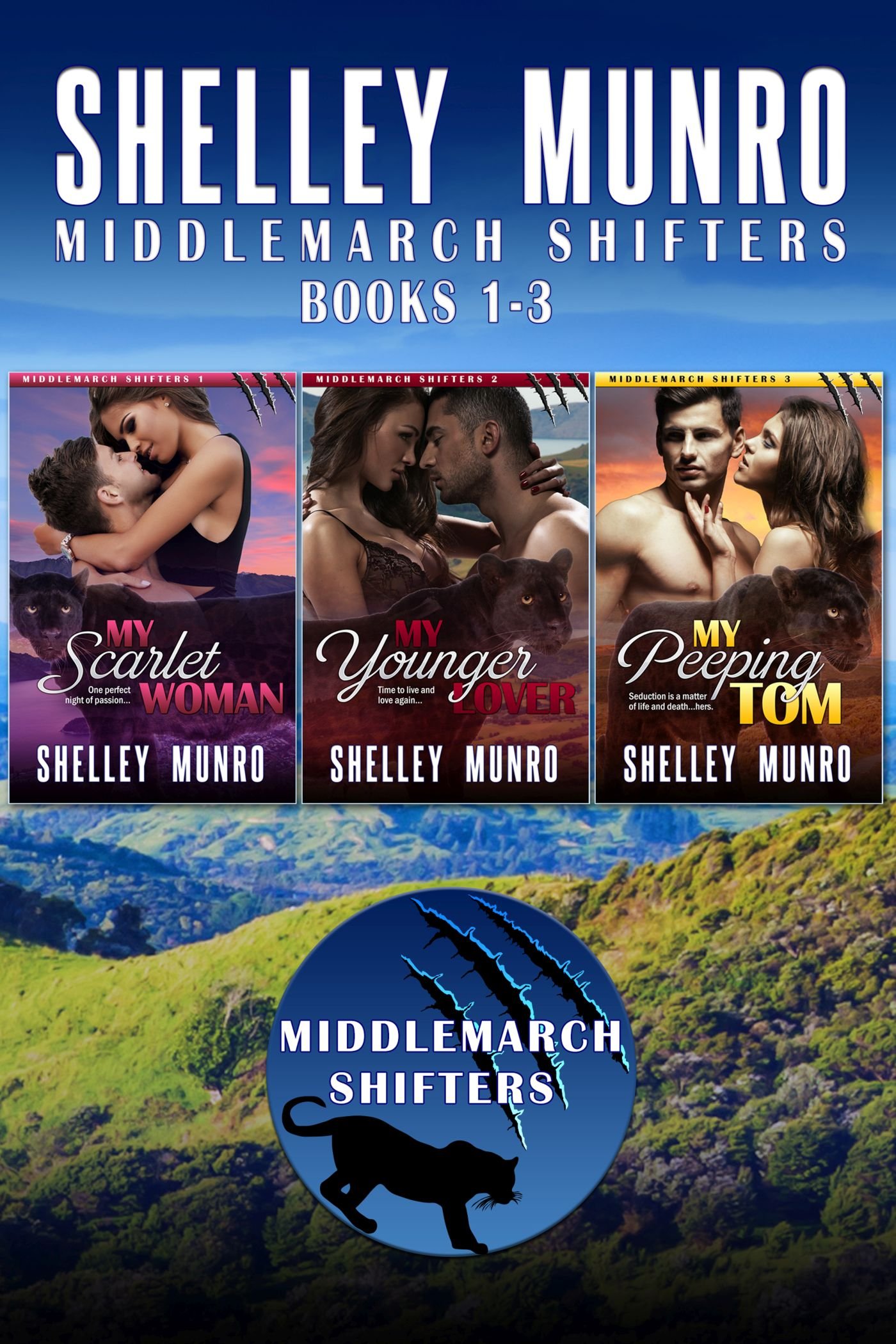 Middlemarch Shifters 1 - 3 Bundle
On Sale
Welcome to Middlemarch, rural home of a secret community of black leopard shifters. Residence of the Mitchell brothers and their friends. All scallywags and rascals, according to the elders on the Feline council.

But with a shortage of marriageable females, what is a single man to do when his livelihood is chained to the land and there are no women to offer distraction? They get up to enough mischief to turn the oldest Mitchell brother's hair gray. That's what.

Want to know a secret?

All that is about to change because the elders have a plan. They're set on changing the status quo and are arranging a ball to entice young women to the rural town. And, from what I hear, that is just the start of their grandiose plans.

This should be very interesting. Let's stand back and watch the fall-out.

My Scarlet Woman, book one

Emily Scarlet's husband left her for his secretary and died in a car accident—all on the same day. Now, six months later, Emily has emerged from her chrysalis of painful memories. To prove she has what it takes to attract a man, she's determined to experience one perfect night of passion.

Feline shapeshifter, Saber Mitchell has a problem with his four boisterous younger brothers. They're out of control, causing trouble and dragging him into the mire. It's too late for him, but he hopes to get his brothers mated and settled, and the inaugural Middlemarch ball is the place to introduce them to marriageable women.

Unbridled sex is the last thing on Saber's mind, but one glimpse of the bubbly Emily Scarlet in her slinky red dress changes his mind. Sex with her is a necessity. They dance. They make love—passionate, intoxicating and satisfying.

One thing is clear—a single night isn't enough. Saber must have her for his mate, but Emily isn't so easy to convince…or trust.

My Younger Lover, book two

Feline shifter Lisa Jordan lost her husband two years ago and now it's time to start living again. At the Middlemarch singles' ball, she's attracted to a sexy shifter, but his identity comes as a huge shock. A big, big shock since man she's ogling is one she knew as a teenager.

Sam Mitchell has harbored a crush on Lisa for years. A relationship was impossible then, but now he's eager to stake his claim. A few dances turns into a one-night stand full of exciting, satisfying sex. Sam wants more, but first he'll need to persuade Lisa to his way of thinking.

Back at home in Christchurch, Lisa's life takes a different turn when she attracts the attention of a mystery stalker. Juggling her safety and a romance with the gorgeous Sam is certainly spicing up her life. If only she lives to enjoy the rewards.

My Peeping Tom, book three

The residents of Middlemarch have a nickname for reporter Tomasine Brooks. They call her Peeping Tom and refuse to answer her questions about the mysterious black cats spotted in the vicinity. To them she's an outsider—the enemy—who has no place in their close-knit shifter community.

Tomasine is determined to find a safe place to settle but earning the locals' trust seems impossible. In desperation, she decides to seduce the sexy Felix Mitchell into giving away Middlemarch's secrets because it's a matter of life or death…hers.

From the moment feline shifter Felix Mitchell crashes into Tomasine outside the post office he desires her with an urgency that makes him suspect they are fated mates. When they are together the connection is hot, the sex is spicy and she makes him happy, but Tomasine is close-mouthed about her past—a past that can threaten their future together.