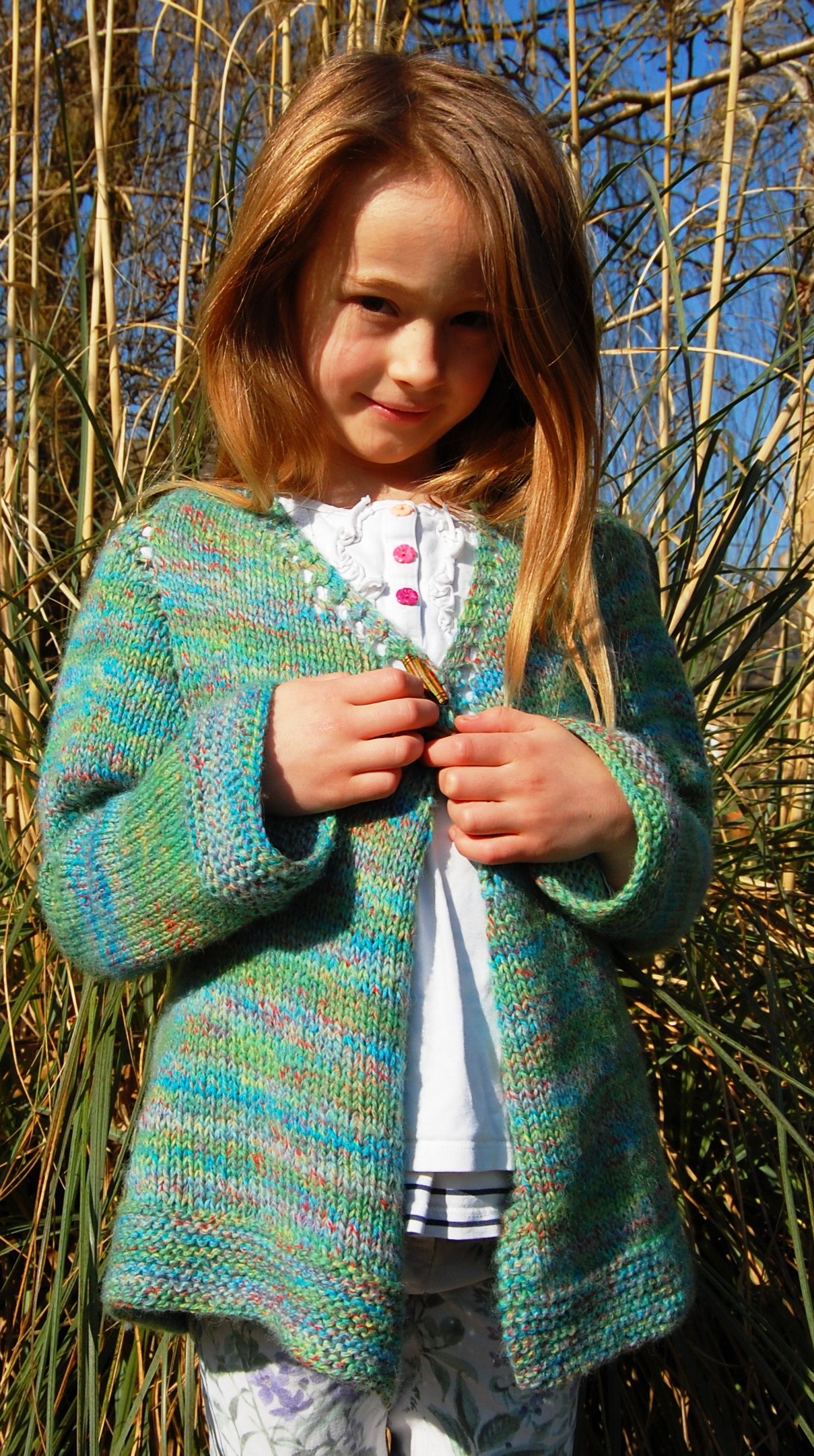 Gaugeless for girls cardigan
On Sale
This cardigan can be knit in any weight of yarn and any needle size without a gauge calculation being required.

How? Its all down to a fun and novel construction in which I have employed the wonders of maths so that when you knit to an initial key measurement the rest of the garment conforms to the laws of geometry to make the rest of the dimensions correct. Knitting nerds rejoice!

Worked top down, it includes options for both long and short sleeves and is virtually seamless (with just a tiny hole at the underarm to close up). All you need to do is measure your knitting in inches or cms throughout the pattern according to the size you want to create. The body is knit flat in one piece, including the tops of the sleeves.There is no picking or joining in of sleeves: like the contiguous method, live stitches for the sleeve are left hanging and are worked later by being joined in the round and continued.

Perfect for those who struggle to make accurate gauge measurements or for that unusual yarn that never seems to meet a required gauge, or if you want to combine yarns in creative ways - or of course simply for the joy of the thing.

Follow the pattern exactly and the garment magically appears as shown. Or use some of the suggested variations to free your knitting even further - this pattern is a great starting point for those who want to start to make their own decisions and customizations. During the test knit testers used a variety of different increases to vary the look, added buttonholes, tried out different borders, stopped short on the length to create bolero versions. My own white garter stitch bolero version shows how you can use the basic recipe to take the pattern in different directions of your own. And the way that it grows makes striped versions very interesting and attractive (see the beautiful adult version by tester orkenvandrer below).

And of course because it is gaugeless this makes the pattern incredibly useful and flexible for different season knits. Need a winter garment? Just follow the directions for long sleeves provided and choose a heavy weight yarn. Want a floaty, lightweight summer garment? - then choose a fine yarn and larger needles than usual and follow the directions for short sleeves.

The design features dramatic deep armholes to allow for layering, whilst biased fabric on the back of the cardigan creates a full slightly "swing shape". For a more fitted shape simply choose a slightly smaller size (see sizing information).

Added bonus!
For fun, a recipe for making a matching cardigan for a doll is included as a separate PDF to download when you buy this pattern or the ebook containing both adult and girls sizes (you'll just need the doll to hand to model for you to do this). See my gaugeless baby doll project for reference!

Its worth a quick note here about swatching. Am I saying don't swatch? You don't have to for this cardigan, but you may still wish to to check the nature of the fabric you are getting with the yarn and needles you choose. I deliberately didn't swatch my samples to see if it could be done without - and it can. But whilst this pattern can be knit with any weight of yarn at any size on any needles, your choices will of course change the nature of the end product. A very bulky yarn on a small baby size will be quick, cosy and quite possibly cute, but not necessarily highly elegant in appearance. A yarn with a good firm twist or one that you know doesn't grow significantly on washing will be ideal for this project if you really want to avoid swatching completely. If using an unfamiliar yarn or one that is known to grow with washing and wearing (like an alpaca yarn example), I would swatch, measure, and wash a sample and make a percentage allowance to finished dimensions for the growth that occurs on washing.

Sizes
Finished chest circumferences, lengths, and sleeve lengths for the finished garment are shown in the tables in the images to the left.

The garment has several inches of positive ease to allow for growth (approx. 2 inches/5cm for the baby sizes and 2.5 inches - 4 inches/7-10 cm for the child sizes). My navy blue sample shows the size 6 garment fitted on a model who is a standard size 6 as a standard fit. My multicoloured sample shows a size 6 model wearing a size 8 cardigan to give you an idea of how the garment will look if you choose to allow even more room for growth, whilst the teal coloured sample by test knitter clintrer shows a model who wanted a more fitted look and is a size 9 in a size 8 cardigan.

One of the benefits of this way of making a garment is that it is in fact very easy to create a custom size simply by working the key measurement in between the standard sizes provided.

Want a grown up version? See the Gaugeless Lady version which can be bought separately or as part of an ebook containing all the sizes from baby to adult L.

Yarn choices

In some combinations of yarn and gauge this cardigan benefits from a light blocking on the back as the construction creates a natural fullness to the shape of the back. I therefore suggest a yarn with a majority natural fibre content that can be blocked simply with a wash and dry flat. For baby versions where washability is key, wool sock yarns with a 10-15 % mixture of nylon make a great choice or any yarn with at least 50% wool or natural fibres. A few that would make good choices are listed in suggested yarns above. Although it is impossible to provide exact yardages for every possible combination of yarn and needles, the pattern does include some guidance and links to useful resources for estimating yardages required.

** Please note that a small alteration was made to the final pattern during testing with the addition of a detail to the base of the spine which helps the fabric lie flatter. This leaf-shape addition can be seen in the photo of the purple sample.