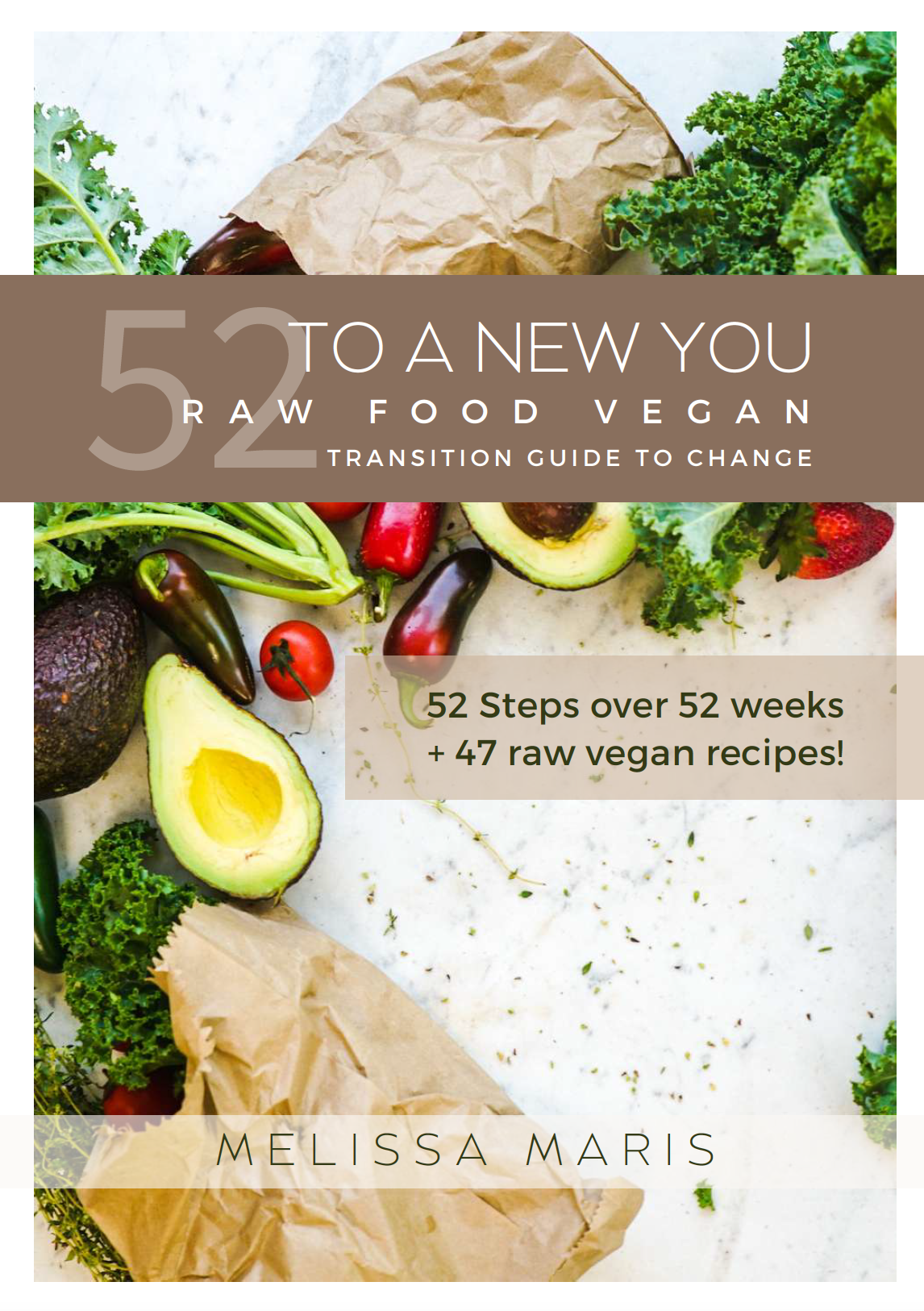 52 to a New You • Raw Vegan Transition Guide
On Sale
$33.00
52 to a NEW YOU • RAW VEGAN TRANSITION GUIDE
300 pages + 47 recipes


In 2015 I wrote the first 52 to a New You ebook and it's been many years now since. I wanted to update this ebook with way more information and update it to match new science and the new things I have learned after being raw since 2014. I strive to continue to update information as I learn new things because I don't want to keep providing old insights that no longer resonate. I have learned so much and want to share with YOU the steps I feel are the most important in transitioning to a raw vegan diet.


This is a treasure trove of information to help you transition slowly over to a vegan and then a raw vegan diet, along with other positive healthy habit changes. Follow along week by week (or go at your own pace) and make changes daily to move towards a raw and vegan life.
Explore topics like going vegan, why vegan, why raw, how to shop, budget, store food, plan, prepare, be social, gut health, exercise, nature, hydration, calorie density, eating enough, common struggles, the importance of vegetables, and a bonus section where I share my thoughts on the common myths in the raw community.
300 pages including 47 recipes to get you started. Included are plenty of clickable links too videos, resources, tools and more. With homework for each week, you will slowly start to create new habits when you work your new choices!
Chapters:
How to use this book
Building strong habits
5 keys to making it work
Fostering a healthy relationship with food
Working with your gut microbiome
Oops... when we make different choices
The 52 weeks (or steps)
Raw Vegan oil free recipes


Recipes included:
Lissa's Classic French Dressing
Sauerkraut Salad
Sun Dried Tomato Salad
Sweet Apricot Mustard Salad
Lemonade Salad
Sweet & Spicy Dilliciousness
Spicy Berry Super Salad
Orange Miso Veggie Bowl
Anthocyanin Salad
Jalapeño Peach Salad
A Side of Sweet Ginger Coleslaw
Herby Avocado Salad
Eat the Rainbow Salad
Tahini Dill Summer Salad
Super Spicy Buffalo Salad
Microbiome Magic
Creamy Apple Raisin Salad
Tropical Cream Slaw Salad
Spicy Orange Peanut Heaven
Rainbow Ranch Variety Salad
Massaged Kale Super Slaw
Bursting Herb Falafel Salad
Soft & Creamy Dilly Cauliflower
Ginger Thai Rainbow Salad
Creamy Tomato Spaghettiohs
Mushroom Marinara
Tasty Coconut Delight
Lemon Hemp Pesto Coodles
That Burger We Made Once
Barefoot Bluejean Burgerss
Cucumber Noodle Soup
King's Mango Apricot Soup
Tomato Coconut Soup
Coconut Jackfruit Chili
Chili Non-Carne
Cauliflower Leek Soup
Cozy Sunchoke Pea Soup
Bloomed Rice & Carrot Sushi
Field Fresh Ranch Dip & Veg
Cucumber Cheezy Lasagna
Cheezy Raw Ravioli
Apple Banana Pancakes
Lissa's Face Banana Cacao Smoothie
Raspberry Tart Smoothie
Pink Dragon Smoothie
Blueberry Lemon Nice Cream
* NOTE * I am also not a purist, I do use a dehydrator, spices, garlic, nutritional yeast, cashews, coconut aminos a small amount of coconut nectar, etc. I just don't cook any of my food. You can leave items out if they bother you, and I do offer replacement suggestions in the beginning of the book. Just letting some of you know in case you were curious. 
*** When you purchase from my site, I have to inform you that you are also automatically added to my email list. You can freely unsubscribe at any time though! 
*** Due to the digital nature of this product, there will be NO refunds issued, no exceptions. This is an electronic book, not a physical copy. Once your payment is complete, you should receive an email with a download link. Please check spam as well if you don't see it right away. If you have problems downloading, try using a different browser. If you have further issues, contact me at • rawfoodromance@gmail.com • with a screenshot copy of your receipt with date of purchase and correct email address :)