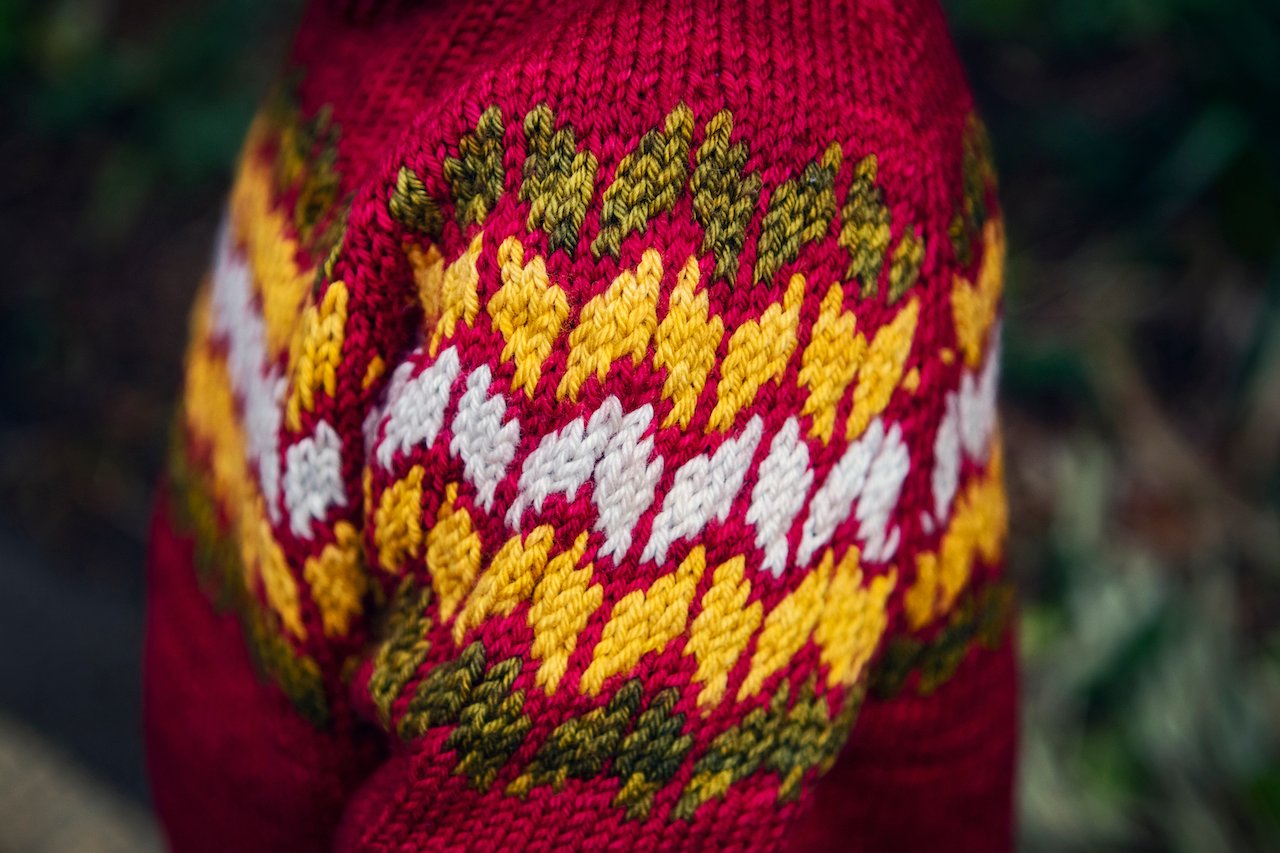 Little Forager
On Sale
£10.00
This sweater is a great beginner colourwork project for someone who wants to expand their sweater knitting skills! You can use anywhere from 1 - 5 contrast colours for the colourwork portion of the sweater and this is a great way to use up some left over DK weight yarn from other projects or even some fingering weight held double.
This is a top down Raglan sweater with a colourwork design incorporated into the Raglan increases. The sweater starts by working flat back and forth before joining in the round and starting the colourwork portion. After this is completed you will split the sleeves and continue to knit the body and sleeves in stockinette. Finally, you will pick up and finish the neckband.
As there is colourwork in this design, I wanted to include some resources for you to look over to learn about colour dominance and the best way to knit your colourwork so the contrast colours in the pattern really pop! Please have a read over the following blog posts for in-depth tips and tricks:
Ysolda - https://ysolda.com/blogs/journal/colour-dominance
Paper Tiger - http://paper-tiger.net/blog/13911317/colordominance
Pay What Works
I have created THREE coupon codes so you can either purchase the pattern for full price, or with 20%, 40% or 60% discounts. I wanted to provide this pattern with a range of pricing options as I know not everyone can afford patterns at full cost. If you would like to support my channel and the work I am doing, and you have the means to do so then paying for this pattern at one of the higher price points is a great way to do that.
The listed price most accurately reflects the time and work that went into creating this pattern, however, if this is not financially accessible for you then please use one of the codes below.
20% off code - PWW20
40% off code - PWW40
60% off code - PWW60
What you will need: 
Yarn
200-500gm of DK weight yarn (229m/250yrds per 115gm) - Sample shown knit out of Duck Duck Wool Yarn in their DK Limited (100% Superwash Merino) in Spellbreaker (Main Colour), and Merry of Soul, Family Table, & Down Feather (Contrast Colours).
The sample pullover is modelled in the 4-6yr size on a 3yr old who is on the taller side for her age.
Needles
3.5mm (US4), 4mm (US6) and 4.5mm (US7), 16 inch (40cm), 24 inch (60cm) or 32 inch (80cm) circulars for body (depending on the size you are knitting) and longer cables (32 inch/80cm or longer) for magic loop on the sleeves, or DPN's in the two smaller needle sizes.
Gauge
22 sts and 32 rounds in 4 inches /10cm, worked in stockinette stitch with 4mm (US6) needles, Colourwork Gauge is 22 sts and 24 rounds in 4 inches/10cm on 4.5mm (US7) needles.
Notions
Stitch markers
Beginning of Round Marker,
Short Row Marker,
Tapestry Needle,
Scrap Yarn/Stitch Holders,
Sizes
The pattern includes 7 child sizes ranging from 18 inches (0-6months) up to 30 inches (8-10years). The sweater is intended to be worn with anywhere from 0-4 inches of positive ease so pick a size based on your preference; sizes shown are finished garment sizes. (Sizing table and schematic are shown in the last two photos on the left).
As always the length of the body and sleeves are easily adjusted to be as long or short as you wish.
I suggest you go through the pattern and highlight the numbers relevant to the size you are choosing to knit to avoid confusion when working through the pattern.
Please note that the 0-6month size will only have four repeats of the chevron repeats in the yoke of the sweater, this is because this smaller size does not have enough space in the yoke for a full 5 repeats of the chart pattern.