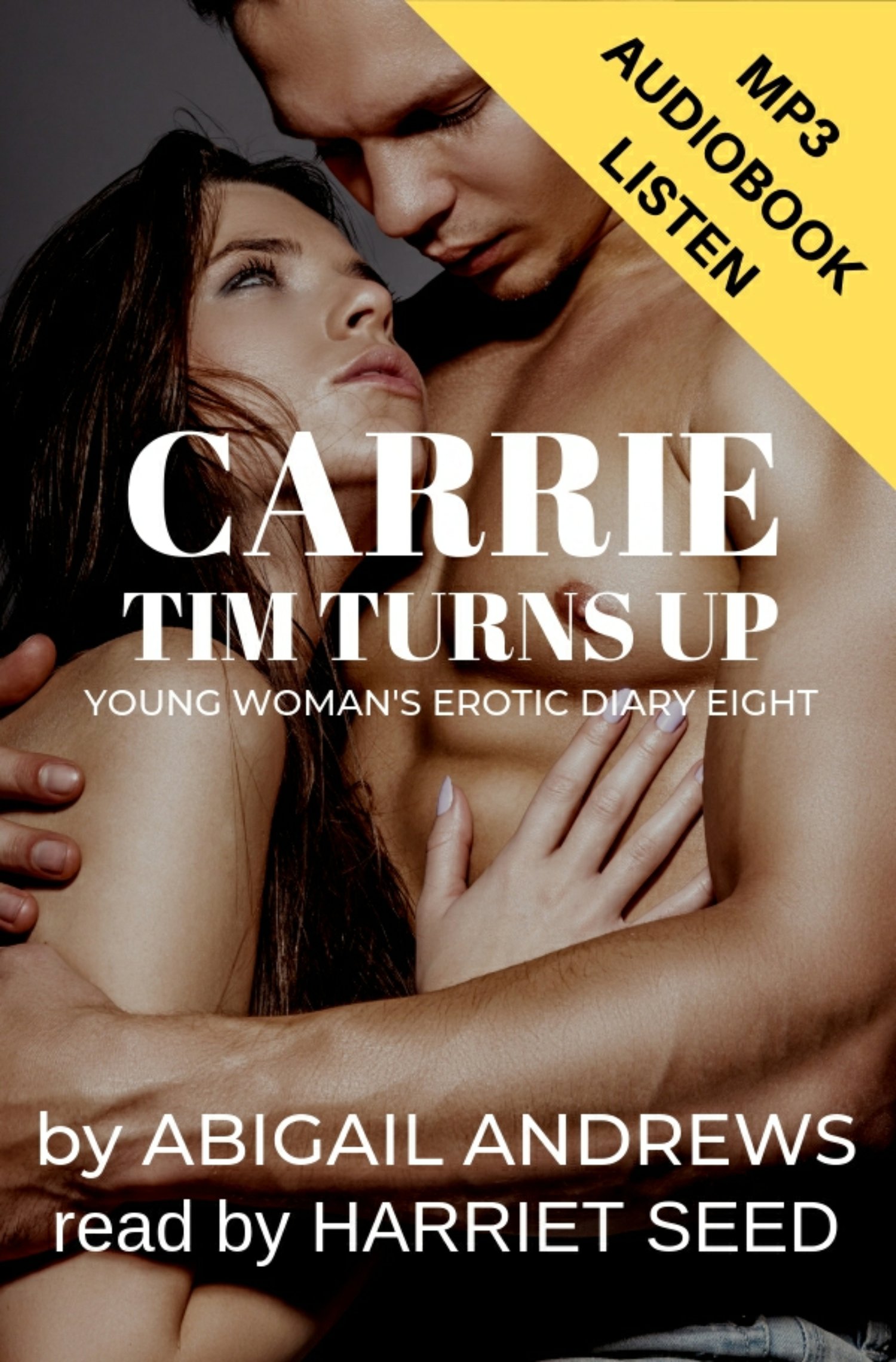 Carrie: Tim Turns Up. Young Woman's Erotic Diary Eight
On Sale
Preview
Hot erotic short story by Abigail Andrews and read by Harriet Seed. Read alone or snuggled up to your favourite person to enjoy this intimate adventure, out of Carrie White's vacation in Spain. Sand, sun and sex. 
Excerpt from my diary: I love the sun and was on a two-week vacation in Spain. I'm Carrie White, blonde, petit and attractive. Or at least that is what they tell me, family, friends and lovers.I just wanted to relax on my first week, lie in the sun, have some early nights, maybe read a book. Good food and not have to worry or think about anything else.But it never works like that. Sometimes I feel I have a tattoo on my forehead Nymphomaniac. I seem to attract single guys, couples and groups who want to enjoy me to the full, every square inch, every sensual centimeter. And I must admit that is what I love, anytime anywhere with anybody. Well! Not exactly anybody. I like people who oozed sex, are good looking and have that certain something about them, and I seem to fall over them all the time.READ ON: I woke up with a start. Had something happened? I opened my eyes and the sun streamed in the window, for a few seconds I had forgotten where I was. Then I realised I was in Spain on a vacation. The first week alone then Gwen, my friend from back home in London was going to join me.Knock! Knock! "Room service" a voice called."Ok! One minute" I said getting out, pulling on a bath robe and walking over to the door. I hadn't ordered anything. I wondered if Roger and Elise had ordered a surprise breakfast for me. I opened it.Standing there. A big smile on his face was Tim! What was he doing here? He leaned forward to kiss me and, taken off my guard I kissed him back as he then walked into the room. "What are you doing here?" I asked. Tim and I were great together, almost a couple but really we were good friends with benefits. I wanted my independence and we both wanted sex. And he seemed to want it with me more and more. We saw each other quite a bit now."As soon as you told me you were here, I booked a flight. I couldn't just walk out of work, so I had a colleague take over my clients for a few days. He was happy to help. I've done the same for him before." He explained. "And I felt like a break with my favourite girl" he went on.I looked at him. I was pleased to see him but what would have happened if I'd had Roger and Elise here or someone else. We did have a close relationship, but I knew he wanted more. He hadn't seemed possessive in the past. In fact we'd had a five-some with three other guys and he'd seen me with other guys at Club Eros and other places we'd been together. But I had wondered in recent weeks if he was really after a less open relationship. Just him and me. Anyway, I couldn't worry about that now. I was on holiday and had planned the next two weeks. Gwen was coming out at the weekend and she was into sexually adventures as much as me now. Had I turned this nice Welsh girl into a nympho maniac? "You look incredible!" Tim said, putting his arms around me and starting to kiss me.I gently pushed away. "Tim! I can't believe you came without telling me. What would you do if I was with another guy? Or had moved on to somewhere else?"He looked at me. "I hadn't thought of that. I just wanted to see you" he said, smiling bashfully. I was really pleased to see him, we were getting closer, but I didn't want him to take me for granted.
Contains explicit erotic descriptions. If you are a minor or may be offended then stop here. OTHERWISE grab this story for a great listen.