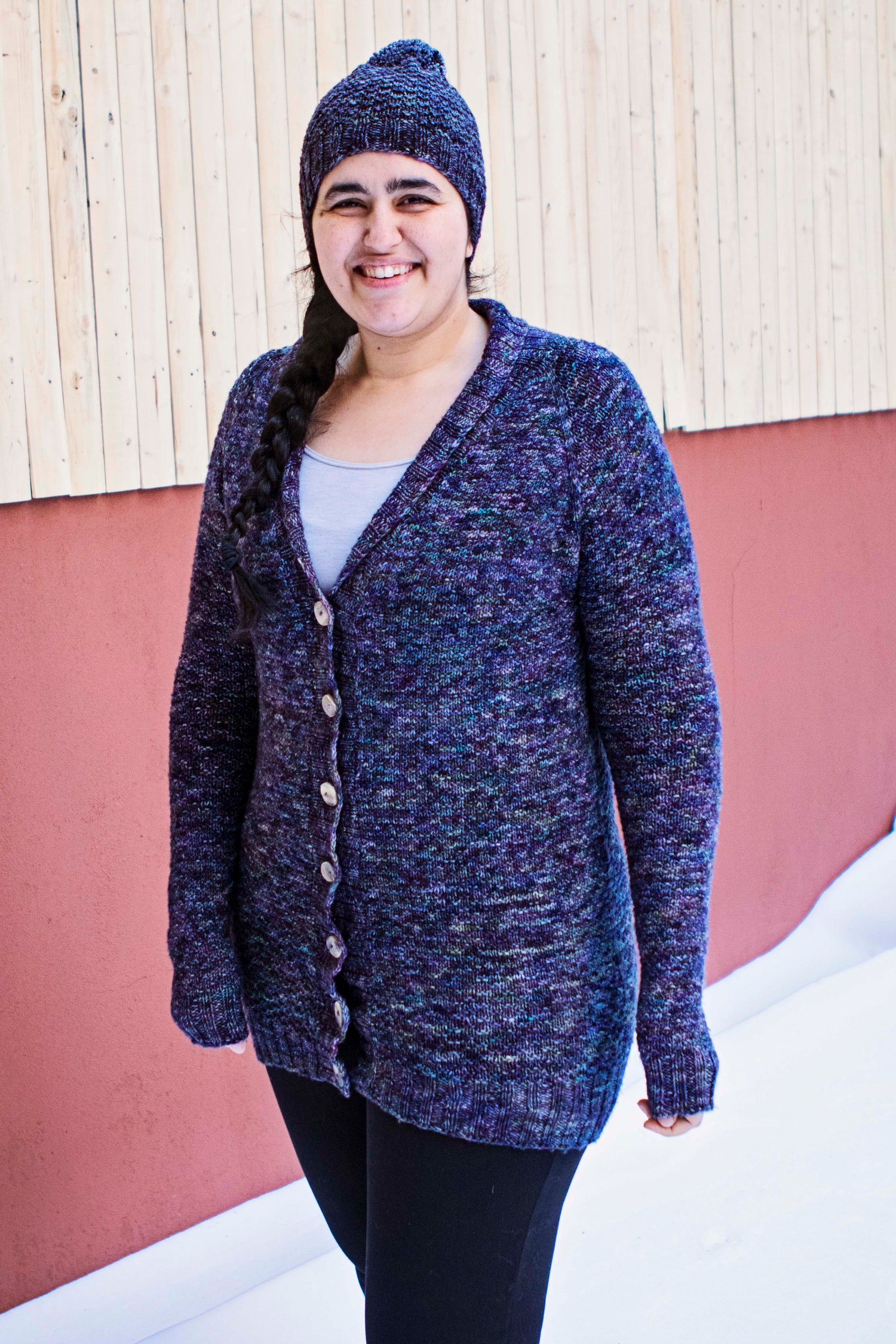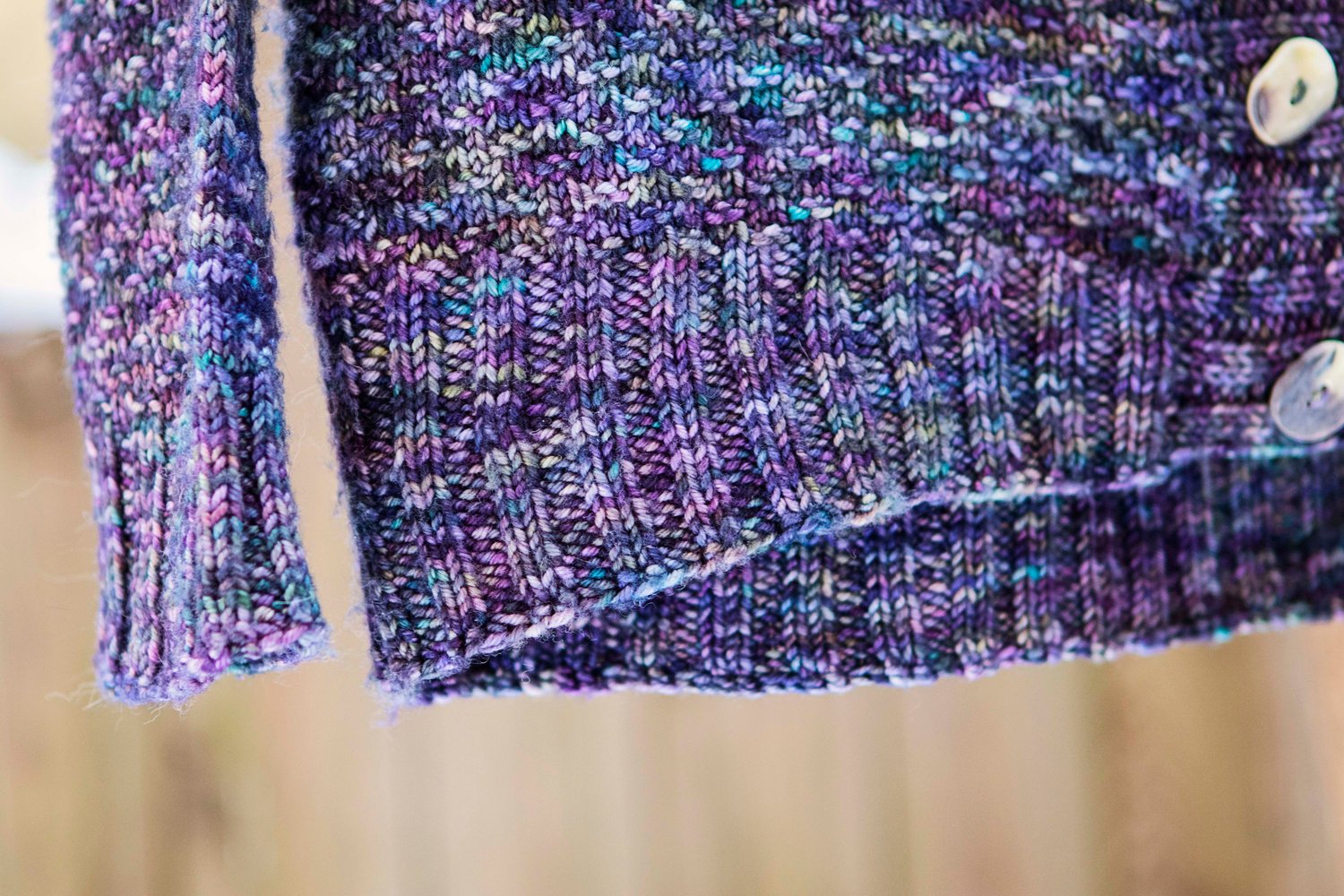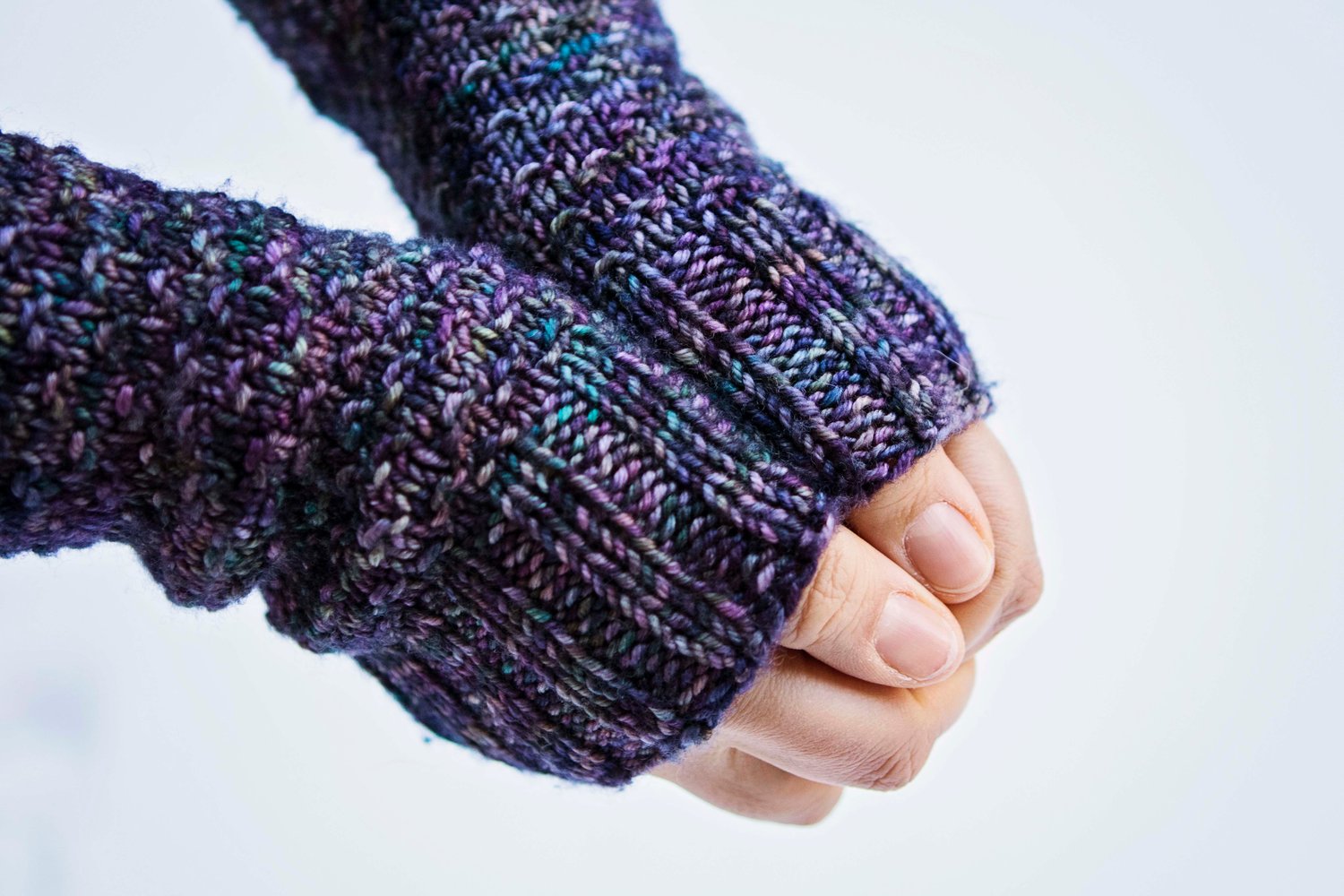 Mix & Match Cardigan
On Sale
This is a fun and engaging pattern to knit … you can knit it in either a DK or Worsted weight which gives the added bonus of making this a rather quick knit as well! Lots of fun with plenty of options to choose from and Mix & Match to make your sweater as unique as you wish.

Please note there is a matching Hat pattern to this sweater as well - the Adult Mix & Match Hat - so if you purchase the patterns together as an E-Book you will be saving 25% off the total price compared to purchasing the patterns separately.

What you will need:
Yarn – There are two weight options for this pattern DK or Worsted, as well as two options for how you knit the pattern – stockinette or textured. See more exact yarn amount requirements in sizing chart below.

Yarn used in the Textured sample – Into The Whirled Dresden DK in the Mildly Amusing Colourway Kettle Dyed (211m/231yds) – Alternatively you can also use fingering weight yarn held double. See sizing chart for yarn quantities required.

Needles –

• DK Version – 3.75mm (US5) and 4mm (US6) 32inch (80cm) circular, and longer cables for magic loop on sleeves or DPN's.

• Worsted Version – 4mm (US6) and 4.5mm (US7) 32inch (80cm) circular, and longer cables for magic loop on sleeves or DPN's.

Notions –

4 Stitch markers
4-8 Locking Stitch markers
Scrap yarn (or stitch holders),
7-8 buttons approx. 3/4in wide
Tapestry Needle
Gauge – All versions the gauge is 20sts/4inches and 28rows/4inches on the larger needles (this is for both Worsted and DK) – Gauge should be measured AFTER blocking.

For this reason it is vitally important that you swatch and use the right size needles to get correct gauge in the texture or stockinette pattern (depending which option you have chosen), and for either weight you use, in order to get the correct sized garment. Knitting the garment at the incorrect gauge may result in a sweater that is smaller or larger than intended (and if larger you may not have enough yarn to complete the garment).

The recommended needle sizes in the pattern reflect the sizes I needed to use to get gauge for this pattern using the different weights and stitch patterns.

Sizing – The pattern includes 8 adult sizes – 28(32, 36, 40, 44)(48, 52, 56) / XS(S, M, M/L, L)(XL, XXL, XXXL). The pattern has 1-2 inches of positive ease built in already. E.g. a 40in size will give you a finished garment with approximately 42in circumference around the chest, so bear this in mind when choosing your size.

I have also made the body length longer than average to create an extra cosy garment, but of course the length of the body, and sleeves, are easily customisable to suit your preferences.

Please see the last two photos on the left for the Sizing Chart and Garment Schematic.

IMPORTANT INFO:
There are several options you can choose from to mix and match and get a finished garment you will love!

Two Neckband options – a Regular V-neck, which, lays flat, or a shawl collar style utilising short rows which help to create a really cosy collar around the neck. All of the shaping is done in the ribbing.

Two Body Options – Stockinette or Textured. The stockinette version is great for those lovely tonals/speckled yarns that you just want to show off as is. Where the textured version is great for those yarns that may have a tendency to pool. Or to add a little something extra and fun to a tonal/speckled yarn – plus it's fun to knit!

Two Hem Options – a Regular Straight Hem, which as it states is simply knit straight without any shaping. As well as a Curved Hem, which uses short rows to create a high-low hem look with the back of the hem being longer than the front. All of the shaping is done in the ribbing again to make the instructions for the body easier to follow.

Two Yarn Weight Options - You can choose to the knit the pattern in either a DK or Worsted weight yarn (you will need to swatch and adjust needle size to get correct gauge).

So between all of this you have six options on how to customize the pattern and two weights of yarn to choose from, so overall there are eight different options to mix and match to get a result you will enjoy.

Gender Neutral - This Cardigan was designed to be as gender neutral as possible, as such it does not include any waist/bust/hip shaping and there are instructions on how to work the buttonholes for Men or for Women included in the pattern.

Other Customizing Options:
You can further customize your sweater by doing any of the following –
• Striping the sweater
• You can fade the sweater or use a gradient set
• Using a contrasting colour for all the ribbing (note if you do this option you will need to knit one round/row plain with your contrast colour before starting the ribbing on the Sleeves and Hem of the sweater to prevent the first row of purl bumps showing up in the main colour.
• Using scraps to get a random scrappy look
• You can choose to mix it up and do stockinette on the sleeves and textured on the body or flip it round and do that the other way.
• If you knit a large enough swatch you can add that to your finished garment as a Patch Pocket.
• Hold Fingering weight doubled (typically this gives a worsted weight but you should check gauge to ensure accurate sizing) to create a fun marled look.