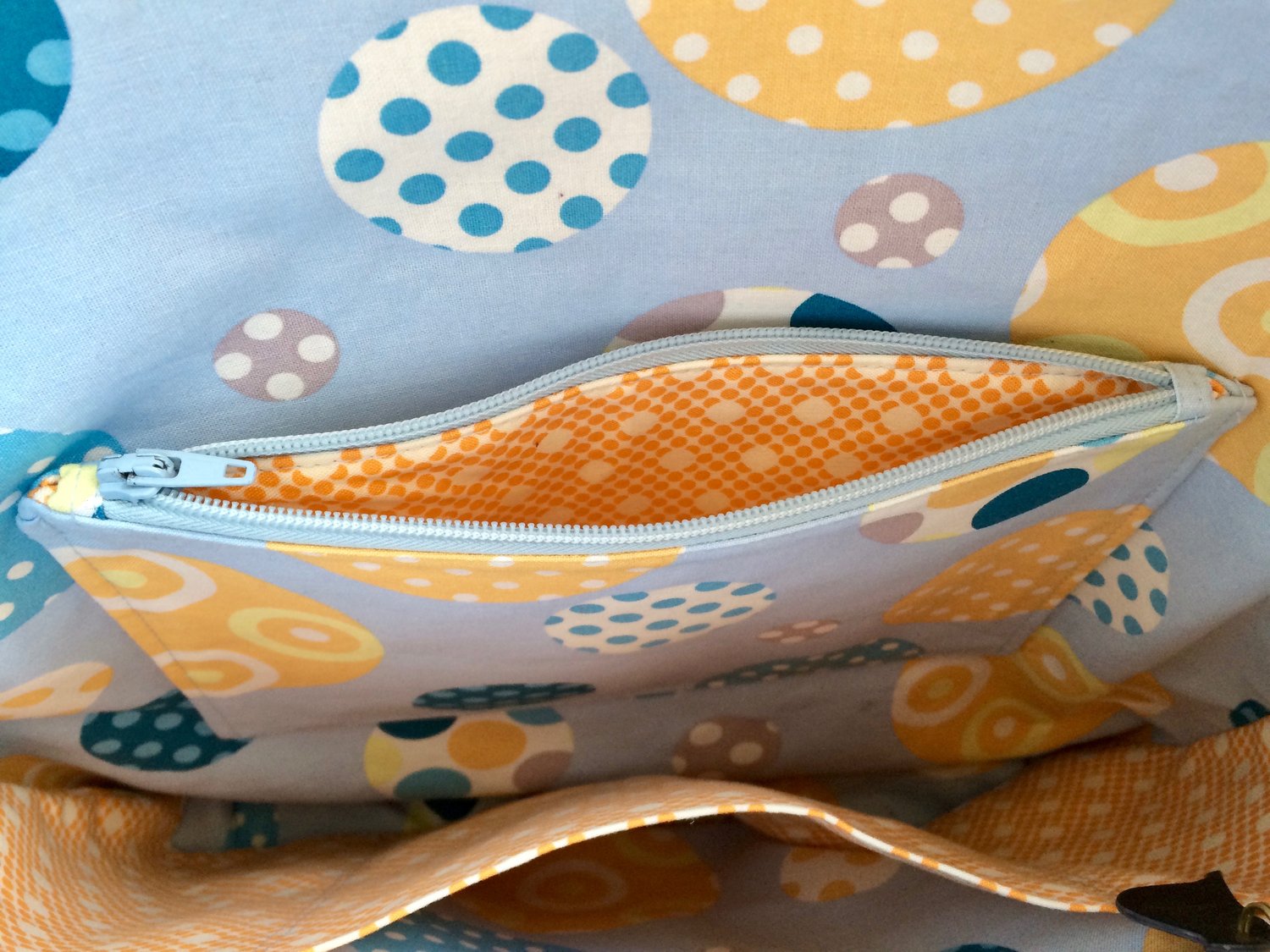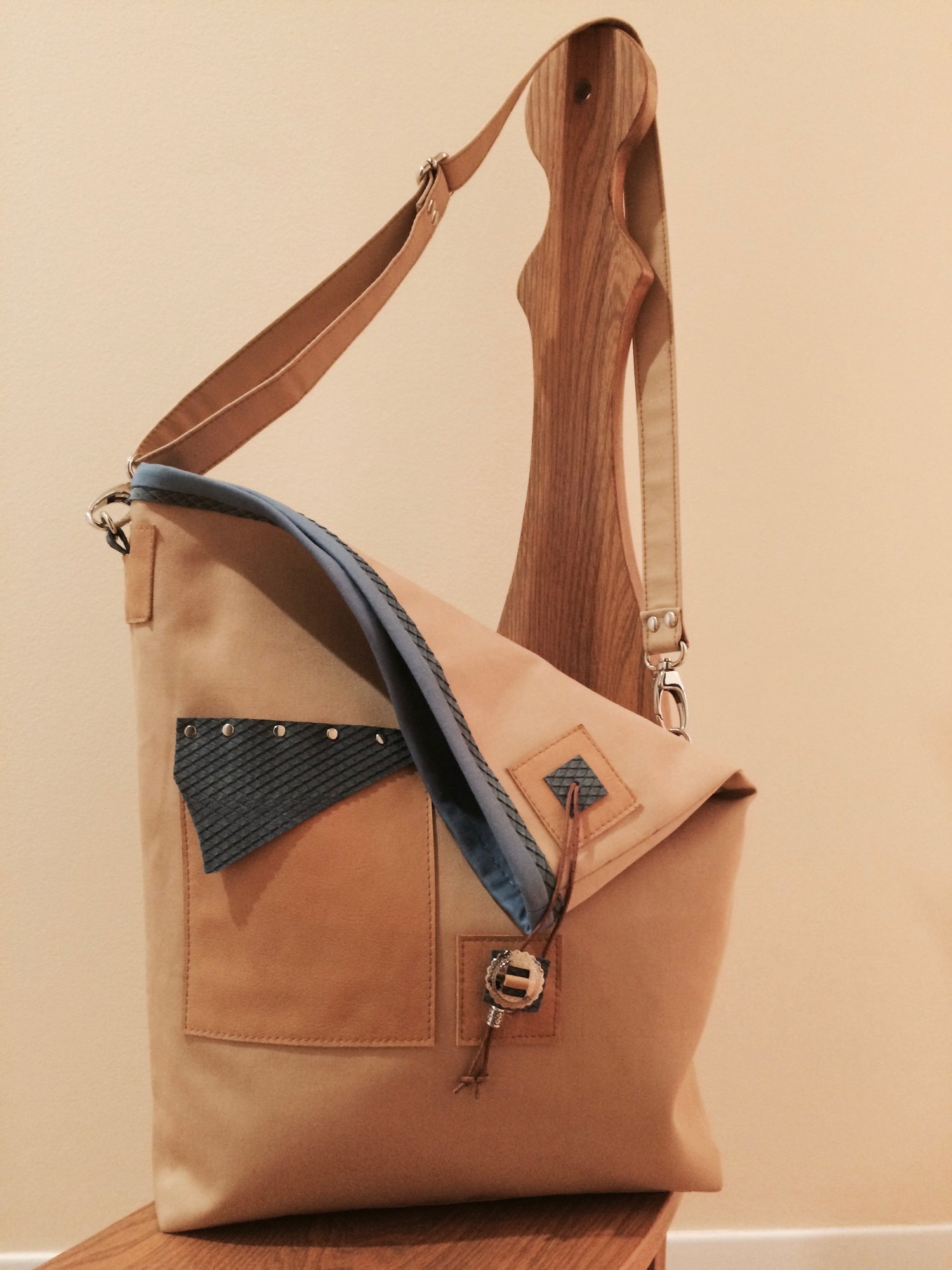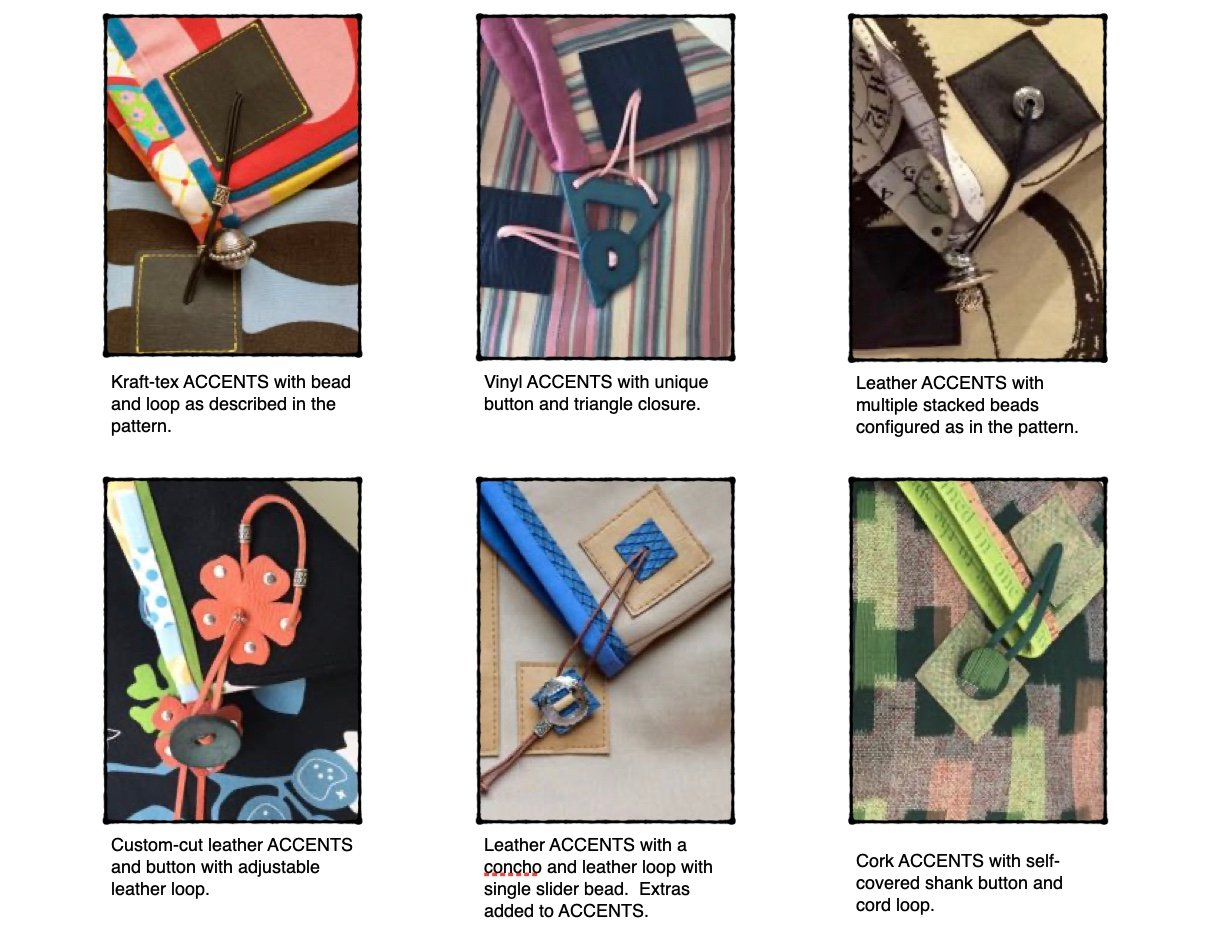 LAPEL - Pattern for a fold-over tote
On Sale
CAD9.75
This is a digital pattern - NOT a finished product. Sorry, no returns.
LAPEL is a basic cross-body tote with a twist - it has a pretty lapel which folds over the front. This lapel can be free or fastened. The pattern includes details for a front closure made with contrasting non-woven accent such as cork, leather, Kraft-Tex or vinyl and two sizes of beads. 
Finished Size: 15" H on the tallest side x 11" W at the bottom x 3" D (39 cm H on the tallest side x 28 cm W at the bottom x 7.6 cm D)
FEATURES:
On the front of LAPEL - a contrasting slip pocket which is perfect for phone or keys and a front closure made with contrasting non-woven accent such as cork, leather, Kraft-Tex or vinyl
On the back of LAPEL -  a zippered pocket at an angle that mimics the fold of the lapel, an accent secures a ring for the cross-body strap and a third accent secures the other half of the closure
The top of the tote is embellished with a contrasting trim and a lining reveal for double impact.
The bottom of the tote has an overlay of non-woven which provides a bit of structure.
An adjustable cross-body strap fastens via swivel hooks and O-rings or D-rings.
Inside LAPEL there is a regular slip pocket, a zippered pocket and a zippered slip pocket which results in two pockets in one. This means you get two zippered pockets and two slip pockets inside.
The lining is exposed in the fold of the lapel
Can be made from a variety of fabrics - canvas (waxed or otherwise), wool or vinyl
We love to pair it with a ROCK STRAP - sold separately
PATTERN INCLUDES:
Lots of written detailed instruction for the beginning bag maker
Many diagrams for the visual learner
Cutting tags to keep the pieces in order during construction
Drafted pattern pieces to print and cut and a few pieces to measure and cut
Fastener "gallery" to inspire you to make a unique LAPEL of your own
All construction is suitable for a domestic sewing machine.
MATERIALS and SUPPLIES:
Exterior
1/2 yard of 42" (0.3 m of 115 cm) wide canvas, twill, vinyl or wool
Non woven Contrast for CLOSURE ACCENT, O-RING TABs and optional BASE ACCENT
1 piece approximately 12" x 12" (31 cm x 31 cm) cork, vinyl, leather or Kraft-tex
Contrast for EXTERIOR POCKET, TOP TRIM and STRAP
1/3 yard (0.3 m.) contrasting fabric
Lining
1 yard (0.9 m.) quilting cotton or equivalent weight.
Interfacing
2 yards (1.8 m) woven fusible interfacing such as Pellon SF101. Use your judgement depending upon the weight of your main fabric.
5" x 11"(13 cm x 28 cm) piece of firm non woven interfacing such as Pellon 809 for zippered pocket facings
Hardware etc
2 - 1" (2.5 cm) swivel hook
2 - 1" (2,5 cm) diameter O-rings or 3/4" (20mm) D-rings.
1 - 1" (2.5 cm) slider
1 - large bead, 1/2" to 3/4" (12mm to 20mm) diameter, for Closure.
2 - small beads, approximately 1/4" (6 mm) diameter for Closure Loop. Or a double-cord lock.
14" (36 cm) - 1/8" non-fray cording (36 cm of 3mm cording)
1 - 7" (17 cm) #3 zipper for interior zippered pocket
1 - 9" (23 cm) #3 zipper for interior zippered slip pocket. NOTE: Zipper lengths are from top stop to bottom stop.
1- 9"(23 cm) #4.5 or #5 zipper for Back zippered pocket. Or 12"(31 cm) of #4.5 or #5 zipper tape and 1 slider.
Erasable marking tool - test to make certain marks can be removed.