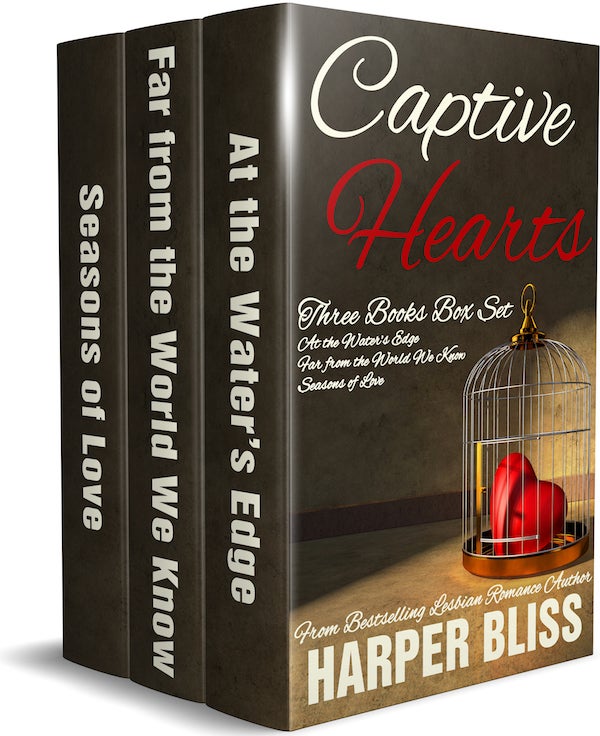 Captive Hearts: Three Lesbian Romance Novels
On Sale
$9.99
Thank you for your interest in this book! Once you have finalised your purchase, you'll be able to download the book files instantly by clicking Download Now.
If you have any trouble transferring the book files to your reading device, don't worry! You will also receive a separate email from help@bookfunnel.com, which contains a link to download this book from BookFunnel. They have step-by-step instructions and are happy to help if you need additional assistance. If you have any trouble with their download process, you can click the help link at the top of the BookFunnel download page and a member of their support team will be happy to lend a hand.
Three much-loved lesbian romance novels from best-selling author Harper Bliss. All the characters in these books are nursing deep mental wounds and are waiting for the right person to help release their captive hearts.
This Harper Bliss boxed set includes At the Water's Edge (including the follow-up novella It Takes Two), Far from the World We Know and Seasons of Love. All books have been Lesbian Romance best sellers and have garnered more than 350 5-star reviews between them.
At the Water's Edge - Sometimes you need to go back to where you came from…
After a traumatic event that has left her in deep need of healing, Ella Goodman returns to her hometown in Oregon. While staying at her family's cabin at the West Waters lake resort, she finds an unexpected friend in level-headed owner Kay Brody.
Far from the World We Know - How far must you run to escape the past?
Laura Baker has just moved to small-town Texas hoping for a life of solitude and recovery after a traumatic event that has scarred her irreversibly. But her chosen isolation is difficult to maintain after she meets Tess Douglas, the charming editor of the town paper.
Seasons of Love - Is age really just a number?
Alice McAllister is a successful solicitor who likes a quiet, disciplined life. But when her business partner Miranda forces her to take a vacation at her holiday home in Portugal, the presence of Miranda's daughter Joy turns Alice's world up-side down.
What reviewers are saying:
"At the Water's Edge was a privilege to read, joining my all time best top ten titles." - Lesbian Reading Room
"Far From the World We Know is an excellent book. I think it just may be Harper's best." - The Lesbian Review
What readers are saying:
About At the Water's Edge
I could wax poetic about this book, but... just read it. You won't regret it.
A Powerful Read!
Heartwarming and Realistic
Touching story about self growth and forgiveness. Lovable characters. Heart wrenching and steamy.
About Far from the World We Know
Chicken soup for the abused lesbian soul!
Satisfyingly deep and heartwarming.
After reading, this one's going to stay with the reader for a very long time.
Beautifully told love story about starting over in small town Texas.
About Seasons of Love
Another unbelievably hot and exciting book!
This is a marvelous story about life and love in the every day world.
I love the humor, I love the sex, I love the love, and I absolutely love the writing.
Ageless love affair. Harper writes another great book.
Buy this great-value box set and get ready for a page-turning rollercoaster ride of emotions!