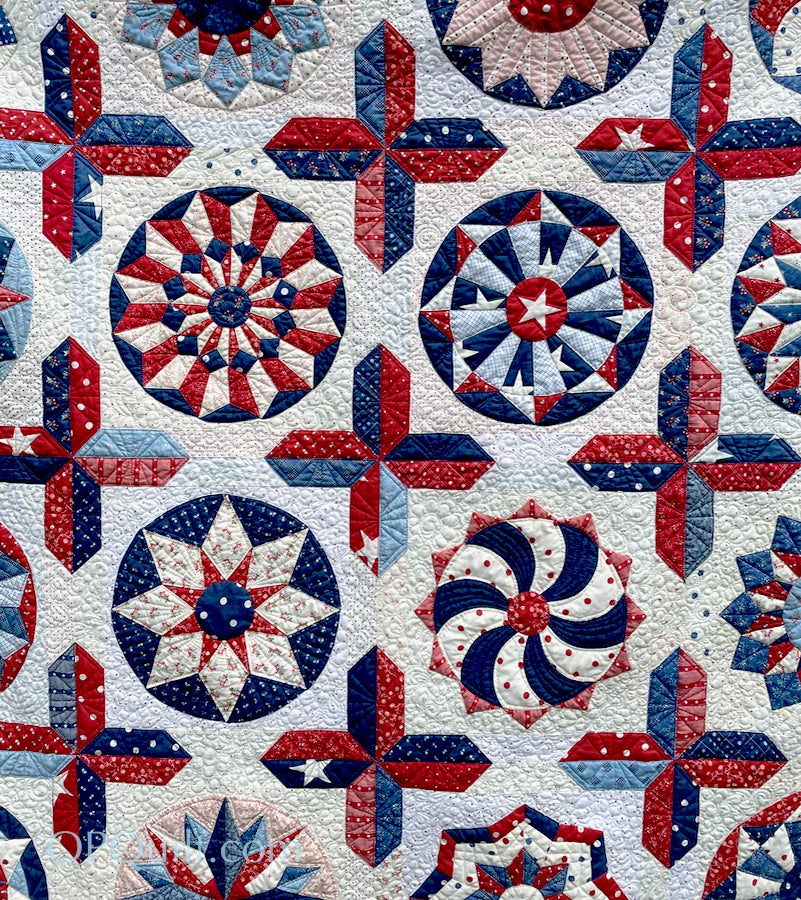 Shine: Circles Quilt Finishing Pattern
$8.00
After I finished designing all my English Paper Pieced Circles (on OPQuilt.com blog), I realized I needed a fun setting to show them all off! You'll find the instructions for the sashing and borders in this pattern; the first twelve blocks are currently being offered free with a QuiltMania Newsletter Subscription. I've also included a free extra block pattern, Summer Day, with this purchase (included in pattern).

[ The other Red, White and Blue block shown in the illustrations is Block #8.]

EU customers can purchase these patterns, knowing that their country's VAT will be paid (VAT will be added to the purchase price).

Updated September 2020: Finished quilt measures 70" square.

Materials: Complete set of EPP Circle Blocks, square ruler with 45-degree line clearly marked, a long ruler (at least 18-20"), basic sewing supplies, sewing machine, printer, scissors.
 
Please note that there is a limited number of times you can download this pattern (3), so be sure to save it to your computer, instead of attempting to access repeatedly it on a mobile device.
 
For more information, please visit my blog at OPQuilt.com.