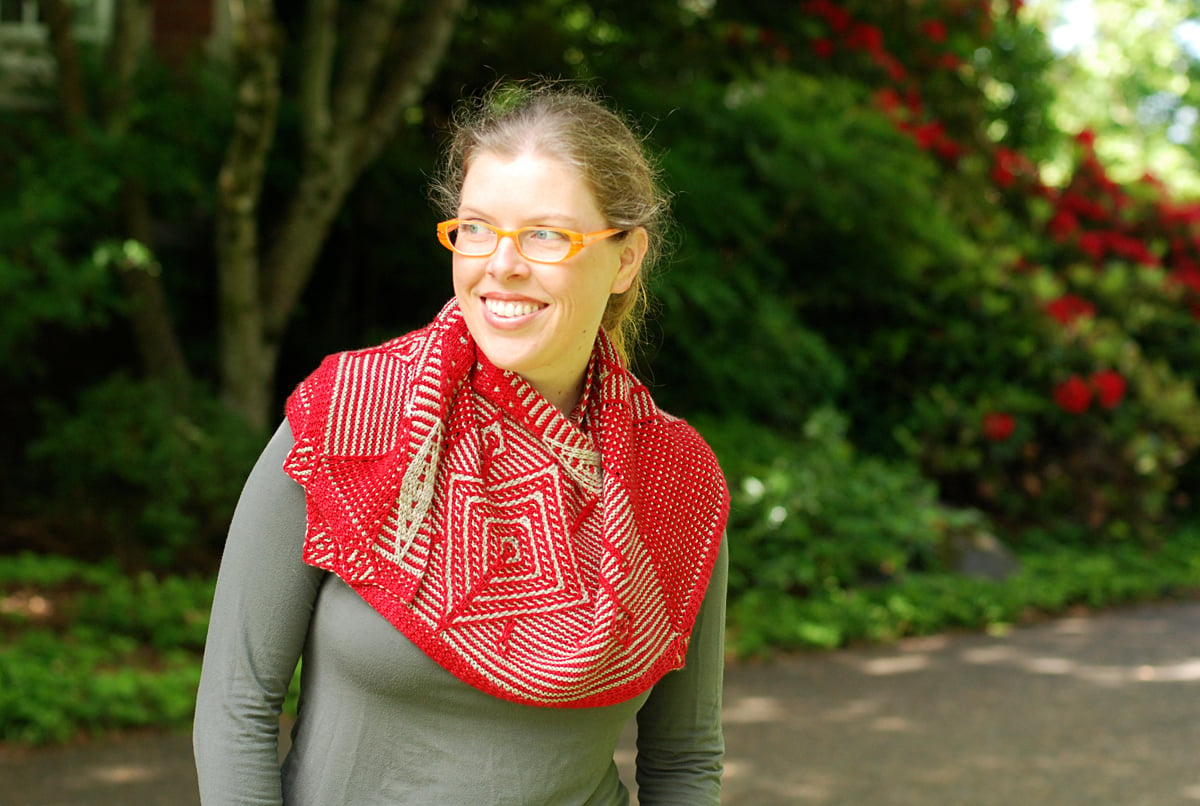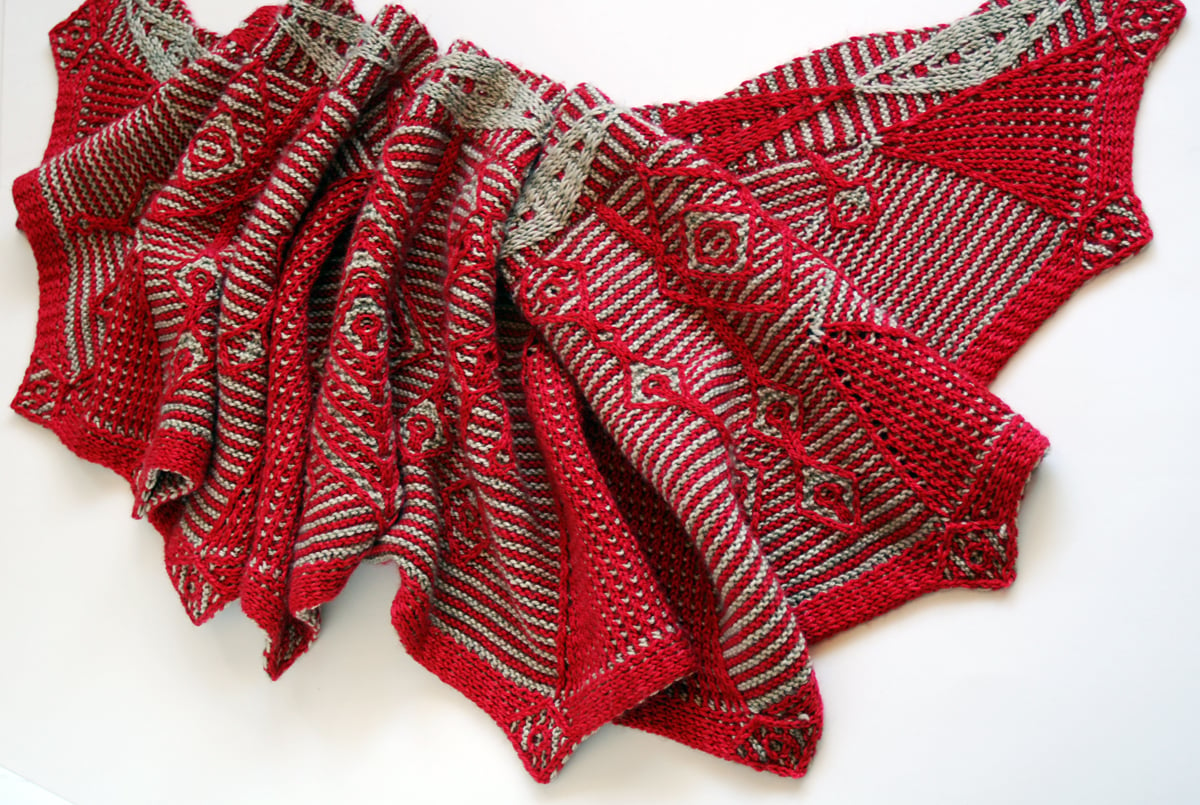 Lerro
On Sale
Preview
a modular, rounded shawl with slip stitch colorwork and twisted stitch diamond patterns over stripes
This pattern is part of the
Betiko Collection
, where it's joined by three other customizable shawls with the same construction.
choose either fully patterned shawl, or simple variation with garter stitch stripes
all patterns are made with slipped stitches and twisted stitches
modular construction in 4 parts, no seaming or picked up stitches
fully patterned shawl in fingering weight yarn includes all stitch patterns charted
simple variation is for any weight yarn, any size, with notes for custom shaping
edge stitch patterns are both written and charted
This pattern includes 2 versions — the fully patterned shawl, in fingering weight yarn, and a simple variation with twisted stitches only around the edges and garter stitch stripes filling the body, which is for any weight yarn and custom sizable.
The pattern includes how-tos for twisted stitches, the provisional cast-on, short rows, process photos and diagrams, and detailed notes on sizing, the construction, the charts, etc. All this makes for a lengthy pdf, but the written patterns are each 2 photo-less pages; the charts are 7 pages (including the legend page).
The charted slipped/twisted stitch patterns are designed to make knitting as intuitive and easy as possible — you'll mostly only need to watch the charts for main color right side rows. There are row guidelines explained so that you can read your knitting as you go and mostly ignore the charts on main color wrong side rows and on all contrasting color rows.
The parts of either version are connected modularly, using short rows, no picked up stitches or seaming. The wedges, which help it flare out into a big U shape, are filled with a simple slip stitch pattern.
All versions and sizes of Lerro are rounded — the fully patterned shawl is long across, with a short height, while the simple variation can be made any length with a taller height if you like, as it's somewhat customizable. No matter how huge your shawl is, you'll only ever cast on 27 stitches total, and bind off 9 stitches. All other stitches will be added and subtracted with increases, decreases, and short rows.
You Need
for fully patterned shawl: 875-965 yards / 800-880 meters total fingering weight yarn

475-515 yards / 435-470 meters in main color yarn
400-450 yards / 365-410 meters contrasting color
the sample used Anzula Squishy, 2 skeins each 1 Red Shoe and Clay

for fully patterned shawl: size US 2 / 2.75mm long circular needle (60" is ideal, but 32" or longer will work), or size to get gauge
for simple variation: enough yarn in any weight, either 2 or 3 colors, close to the same yardage in main and contrasting — if using 3 colors, a bit more than half the yardage in the main color, and approx a quarter each in the 2 contrasting; very approx estimates here are for total yardage

bulky: 400-600 yards / 370-550 meters — worsted: 500-800 yards / 450-730 meters — sport: 600-1000 yards / 550-900 meters — fingering: 700-1200 yards / 650-1100 meters
the sample used Anzula Cricket DK, 2 skeins Key Lime (MC - 365 yards / 335 meters used), 1 skein each Elephant (CC1 — 165 yards / 150 meters used) and Seaside (CC2 — 155 yards / 140 meters used)

for simple variation: needles sized to match yarn — a long circular (60" is ideal, 32" or longer will work)
Gauge
For fingering weight fully patterned version: approx 6.5 sts per inch / 2.5 cm, in garter stitch.
For simple variation, use any weight for any gauge (sample shown is DK weight on size US 6 / 4mm needles, gauge of approx 5.25 sts per inch). There is no need to measure your gauge at all for this version. Use needles 1 or 2 sizes bigger than normal if you want a loose, drapey fabric for your shawl.
Yardage Notes
Through the first 3 sections (everything before outer edging), the fully patterned version uses approx 400-425 yards / 365-390 meters main color, 350-390 yards / 320-360 meters contrasting; the outer edging uses approx 75-95 yards / 70-85 meters main color, 50-65 yards / 45-60 meters contrasting.
To avoid needing to buy 4 full skeins of yarn, if you have partial skeins in your stash amounting to the edging yardage, you could use 2 full skeins for the body, up to the edging, then use different, coordinating colors from your stash for the outer edging.
Colors/Yarns
The fully patterned version is designed for 2 colors throughout — the same 2 colors should be used for sections 1-3, but different colors could be used for the section 4 outer edging if you'd like, for a different kind of look from the sample piece. Solid colors are recommended, in highly contrasting shades.
The simple variation is written for one main color throughout, and two different contrasting colors (as you see in the green and grey sample), but you can use the same single contrasting yarn throughout if you prefer. Using the same main color for sections 1-3 is recommended, but you could use a different main color for the outer edging (section 4) if you want to.