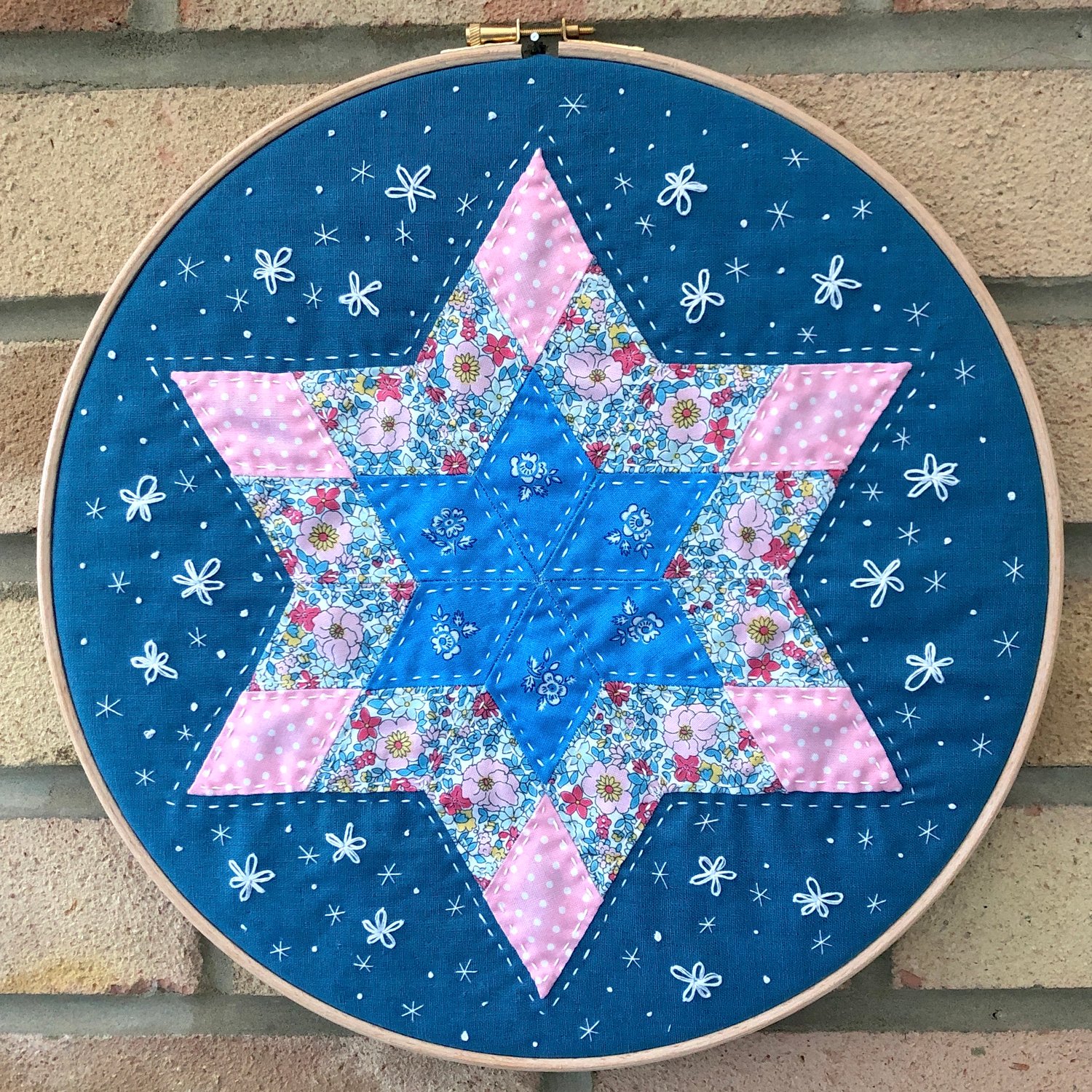 Diamond Star Hoop Art Pattern
On Sale
This pretty Hoop Art project uses an English paper-piecing technique to create this star design, which is then appliquéd onto a background, hand quilted, then mounted into a 12" embroidery hoop. This pattern would look pretty in solid or smaller design prints, or why not have a go at fussy-cutting identical motifs from fat quarters to create this gorgeous effect. 
The pattern includes: 
• Full materials requirements
• Full colour instructions
• Cutting Instructions
• Piecing instructions
• Ideas for quilting
• Instructions on fitting the hoop
Finished size: Approx 12" round
Skill level: Skilled beginner
You will need:
• Three fat quarters in co-ordinating prints – if you want to try fussy-cutting the shapes, find at least two fabrics that have interesting motifs.
• 16" square of background fabric
• 16" square of backing fabric and wadding
• Template plastic if fussy-cutting.
• 12" embroidery hoop
• Temporary fabric glue pen, which you can purchase here.
• There is a template included to trace off to make your own papers, or you can purchase packs of pre-cut paper templates at sewmotion.com by clicking here
Make sure to read the whole pattern all the way through before beginning your project.
Want to add more items to your cart? Add to your cart, then just close this page and select the next item from the website, the cart will remember what is in it :-) Keep doing that til you are ready to checkout.
I have a collection of these hoop projects available as kits - see the collection here.