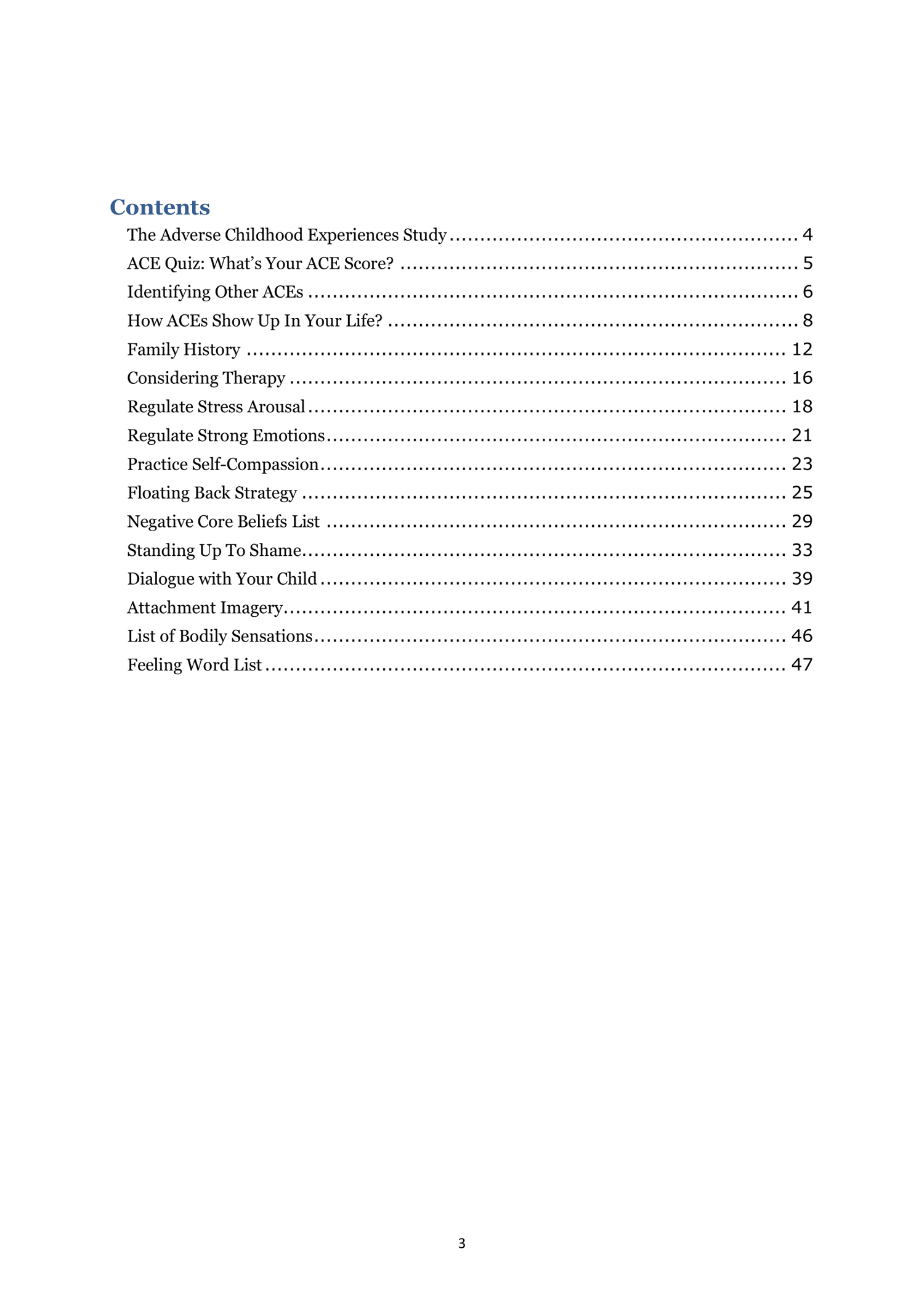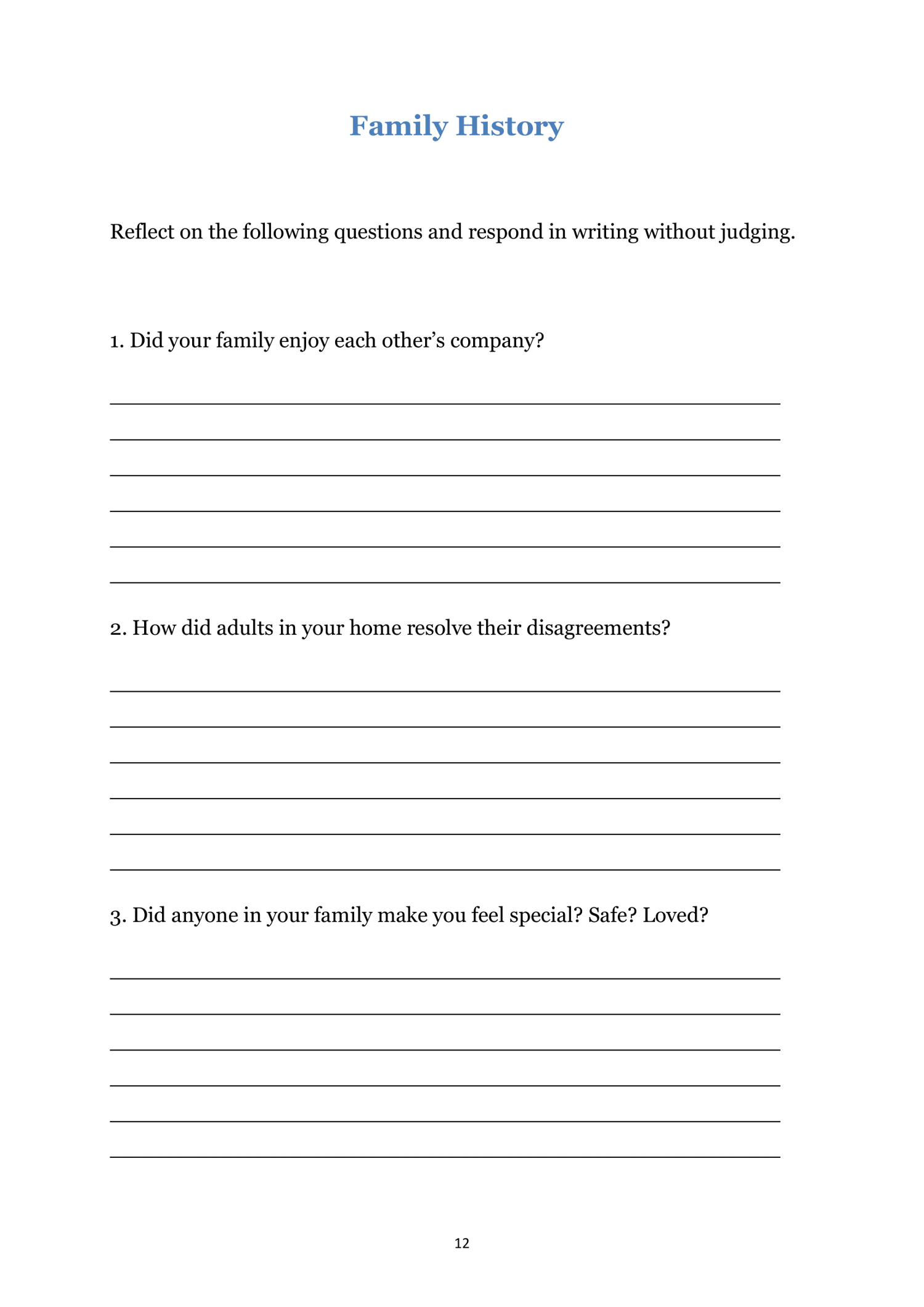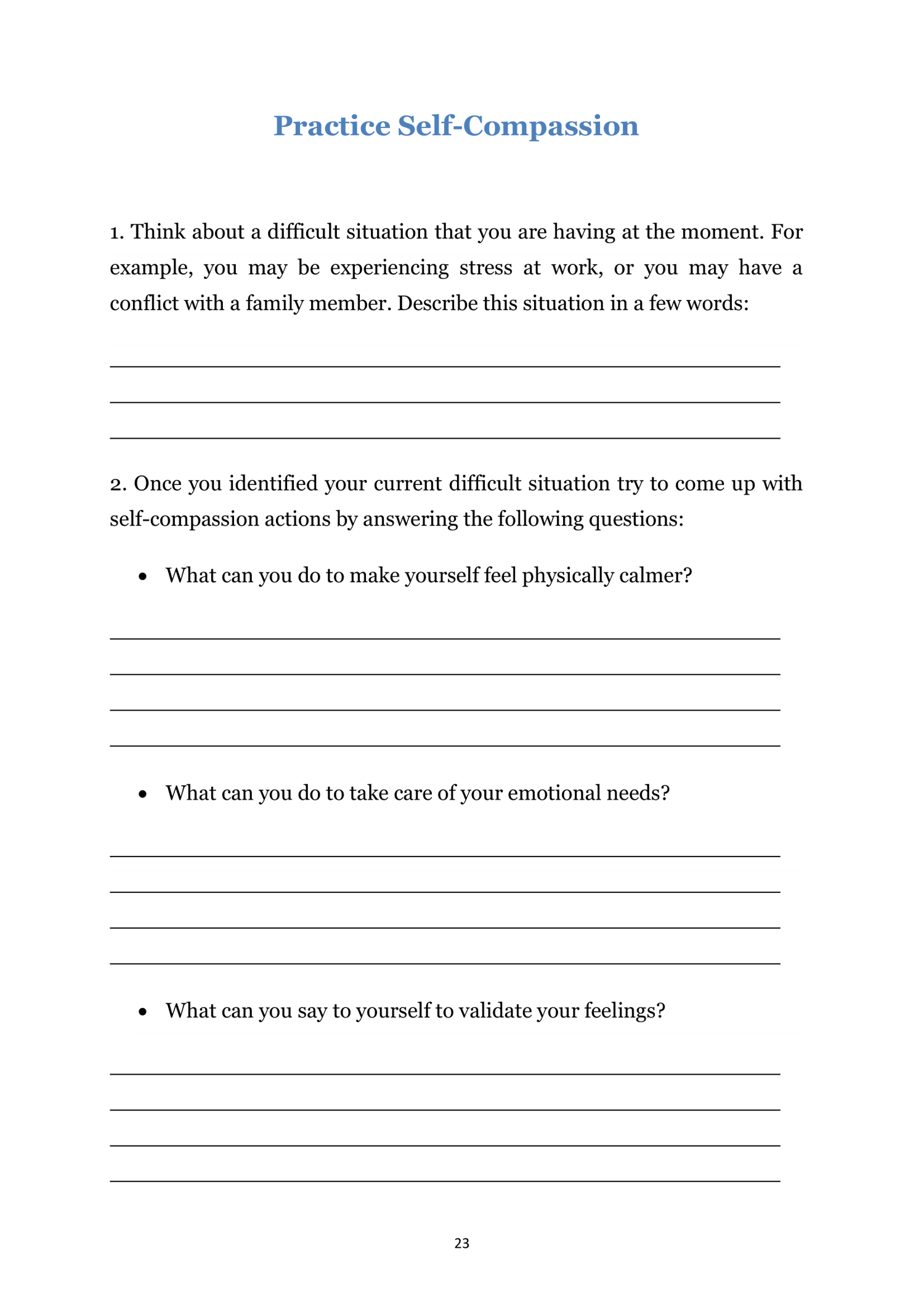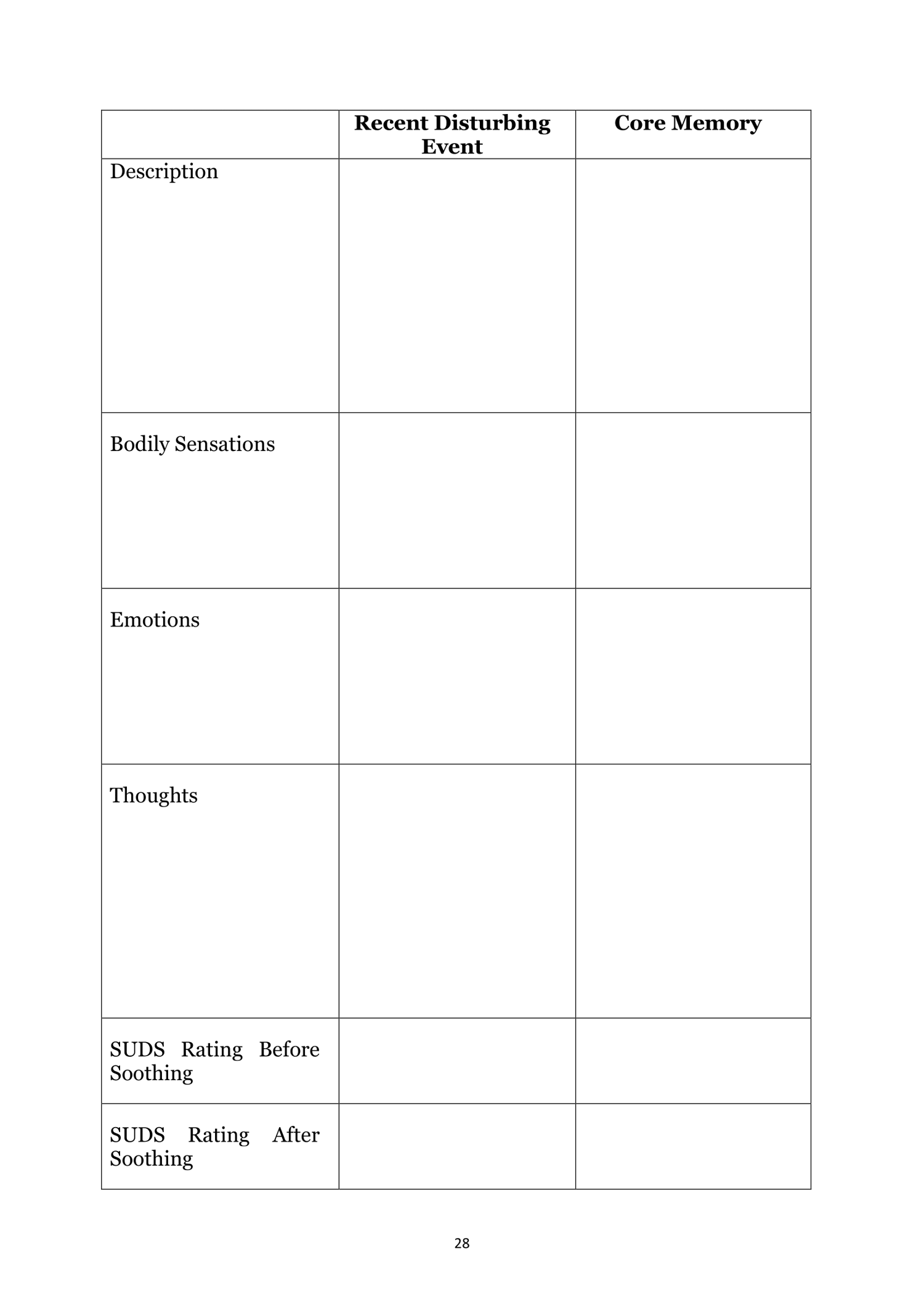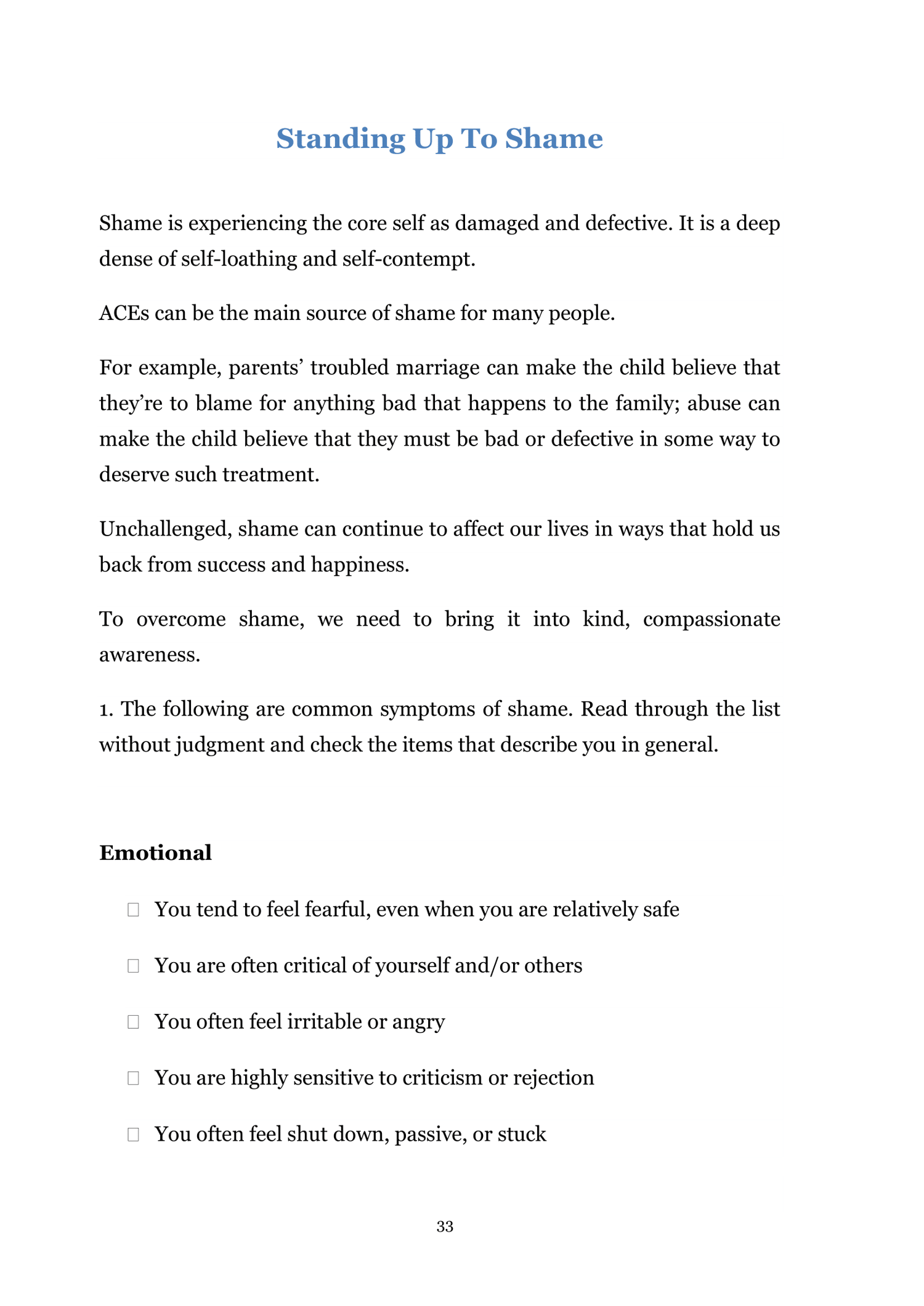 ACEs Worksheets (Adverse Childhood Experiences)
On Sale
$9.00
What Are ACE?
"ACEs" stands for Adverse Childhood Experiences.
These include three specific kinds of adversity children face in the home environment—various forms of physical and emotional abuse, neglect, and household dysfunction. 
READY TO HEAL YOUR ACEs AND LIVE A FULFILLING LIFE?DID YOU EXPERIENCE ANY OF THE FOLLOWING?
Did your parents or primary caregivers often swear at you, insult you, put you down, or humiliate you?
Did your parents or primary caregivers often hit, push, grab, slap, or throw something at you?
Did an adult or someone at least five years older than you ever touch you or have you touch them in a sexual way?
Did you often feel that your family never loved you or thought you were important or good enough?
Did you often feel that you didn't have enough to eat, had to wear dirty clothes, or had no one to protect you and take care of you?
Were your parents ever divorced or separated?
Was your mother or stepmother often pushed, grabbed, slapped, or hit?
Did anyone in your family have drinking problem or was addicted to drugs?
Was anyone in your family mentally ill or suicidal?
Did anyone in your family go to prison?
If so, Adverse Childhood Experiences may be holding you back in life.
IF YOU NEED A SIMPLE AND AFFORDABLE GUIDE TO SUPPORT YOUR HEALING FROM ACEs.... YOU NEED THIS.WHAT IS INCLUDED?

More Than 45 Pages of Activities and Exercises
The Adverse Childhood Experiences Study
ACE Quiz: What's Your ACE Score?
Identifying Other ACEs
How ACEs Show Up In Your Life?
Family History
Considering Therapy
Regulate Stress Arousal
Regulate Strong Emotions
Practice Self-Compassion
Floating Back Strategy
Negative Core Beliefs List
Standing Up To Shame
Dialogue with Your Child
Attachment Imagery
List of Bodily Sensations
Feeling Word List
FREQUENTLY ASKED QUESTIONS HOW DO I KNOW IF THESE WORKSHEETS ARE RIGHT FOR ME?
These worksheets are ideal for people who have experienced mild to moderate ACEs. 
Note: because trauma is by nature overwhelming, consider using the help of a mental health professional. I recommend seeking the help of a qualified traumatologist, preferably one certified by the Association of Traumatic Stress Specialists (ATSS).
 WHAT IS THE FORMAT?
You will receive a digital PDF copy of the "ACEs Worksheets".
THIS IS A DIGITAL PURCHASE. NOTHING WILL BE SHIPPED.HOW DO I FILL IT OUT?
Print out the PDF and fill out by hand or alternatively fill them out digitally straight on your computer or phone using a PDF reading software such as Adobe Reader (Free) or Adobe Acrobat, or apps like apps like XoDo or GoodNotes or pdfFiller.
You may print as many copies as you need of each page.
HOW SOON WILL I HAVE ACCESS?
Immediately! You will have access to your files. An automatic email receipt is sent which includes the link to your download page where you can instantly download the files you've purchased. 
WHAT IS YOUR RETURN POLICY?
Due to the nature of the product, all sales are final. However, I am confident that these worksheets will provide the strategies you need to get started.
"If you ever encounter technical issues in downloading the file after purchasing, using the email that you used to buy this product please send me a message here with a screenshot of your purchase attached [Ineffliving@gmail.com] and I will personally send you the files :) "
When to Consider Therapy 
It is always helpful to work with a therapist or trauma specialist.
However, you should seriously consider therapy if you are experiencing any of the following:
You can't think of certain memories without experiencing intense distress.
You experience intrusive memories, including nightmares, flashbacks, or hallucinations.
You or your surroundings seem unreal.
You experience disturbing emotions frequently (e.g., crushing feelings of low self-worth, shame, fear, depression, hopelessness, irritability, or extreme rage, etc.).
You feel numb, unable to experience happy feelings.
You have a mental illness, such as anxiety, panic disorder, depression, borderline personality disorder, or bipolar disorder.
You are harming or thinking about to harm yourself (e.g., suicidal thoughts, thoughts of cutting or otherwise injuring your body, engaging in risky behaviors such as driving dangerously or while intoxicated, having unprotected sex, etc.)
Any memories or symptoms seem overwhelming.