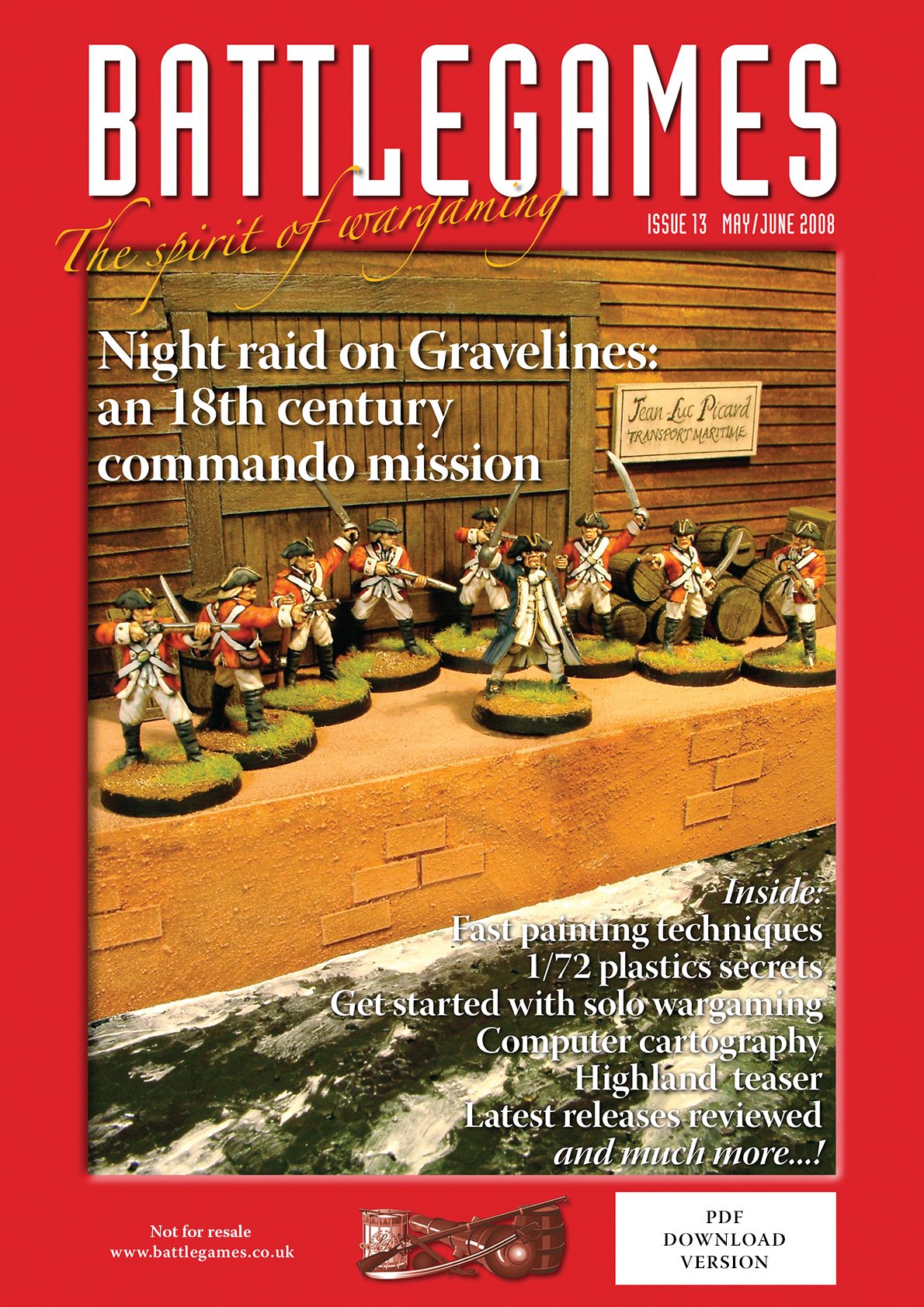 Battlegames Issue 13
On Sale
Preview
Bags of potential. New contributor Diane Sutherland brings a female perspective on the hobby. This long-suffering 'wargames widow' discusses the way we accumulate mountains of 'stuff' that most sane people would probably throw away.
Forward Observer. Mike Siggins' column can't avoid dealing with the arrival of yet more 28mm plastics, but also looks at bases, the new "Kiss, Kiss, Bang, Bang" pulp range, washes and painting techniques, adhesives, Sharp Practice from the Lardies, Alban Miniatures and much more besides.
The least you can do. Bob Barnetson, one of our most prolific contributors, shows the breadth of his talents with a quick-and-dirty lesson in getting your wargames armies painted and ready for the table fast!
12 must-know secrets about 1/72 plastics. Stokes Schwartz is new to Battlegames, but well-known to 'Old Schoolers' who enjoy exploring imagi-nations. Here, he extols the virtues of those much-maligned boxes of miniatures that can be found in almost every toy and model shop.
Solo wargaming: the joy of self-simulation. Rich Barbuto, Editor of Lone Warrior, the journal of the Solo Wargamers Association, has many excellent ideas for inspiring us to explore the potential of challenging ourselves in our wargames.
Night raid on Gravelines. Best described as an 18th-century commando mission — can your brave Royal Marines execute the perfect sneak attack on this well-defended pirate lair?
Table Top Teaser. C S Grant's scenario this time is "Fighting withdrawal, or 'over the hills and far away'", which has you pitching regular, government troops against onrushing hordes of highlanders charging through the heather. Can you make it back to the fort?
To boldly go... Our fantasy & sci-fi Editor Roger Smith recalls the delights of his trip to Salute earlier this year and the surprising range of inspiration he derived from it. Roger tempted by Napoleonics? Surely not!
Computer cartography for wargamers. Yet another new writer gets into print this issue: Tyler Provick gives us a useful introductory lesson on how to use free software like Inkscape to create magnificent maps.
Recce. Having held over stuff I didn't have space for last time, there was plenty to catch up with anyway, but a lot more bits and pieces have arrived over the last several weeks! A host of books, figures, models, computer games and rules come under the famously impartial Battlegames scrutiny.
With his usual wit, John Preece's short War and Preece column honours the Oxford University Wargames Club, which may indeed be the oldest wargaming society in the world.