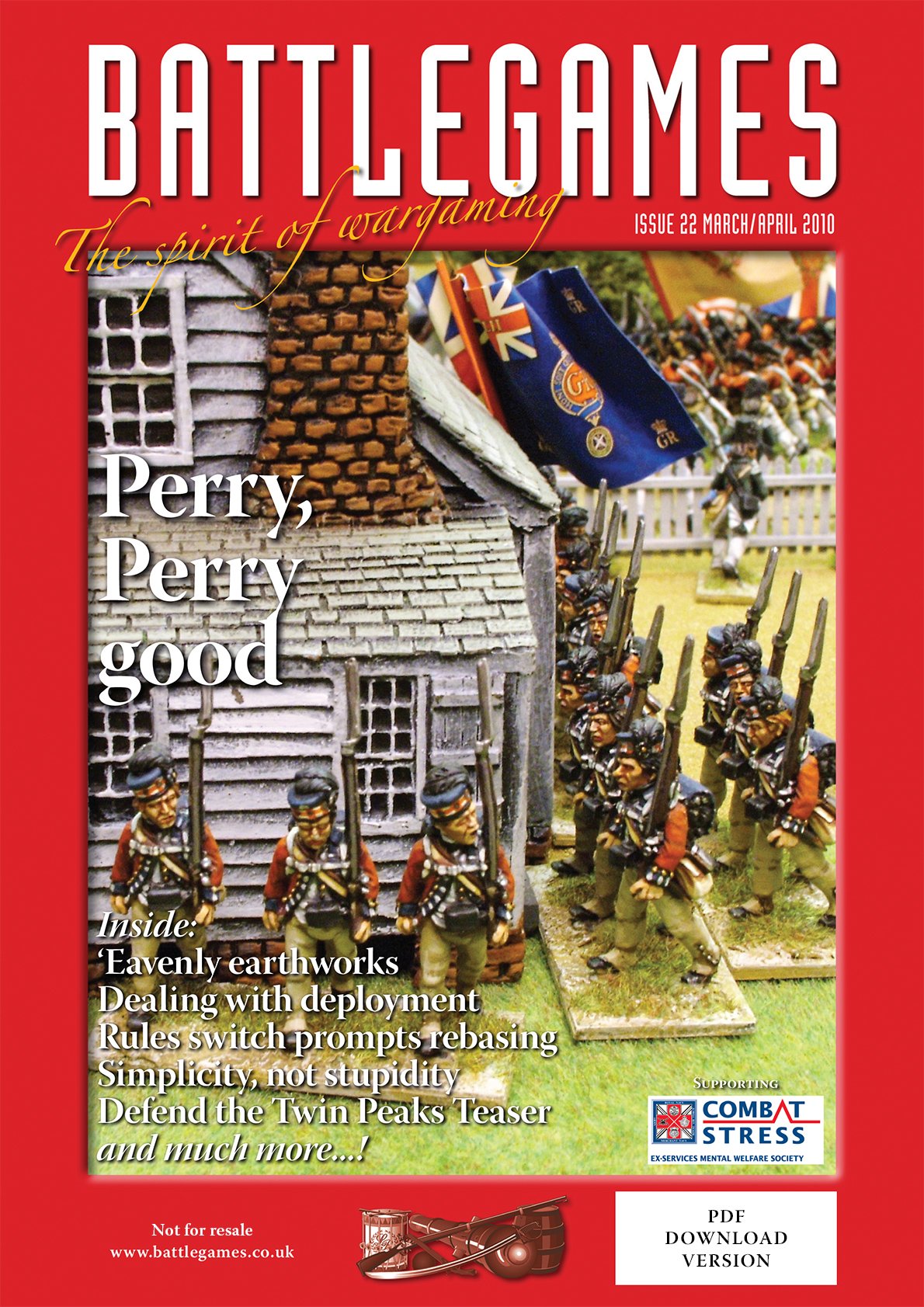 Battlegames Issue 22
On Sale
$1.99
Preview
Oi! that's my apple corer! Diane Sutherland screams as husband Jon gets a yearning for earthworks in his games. As usual, Diane takes control and shows you step-by-step how to look like a scenery-making pro.
Forward observer. Mike Siggins, at long last, comes to grips with those suprisingly controversial Black Powder rules, casting a world-weary eye over the pros and cons of Priestleyesque gaming. And then, just to show that he's capable of just about anything, he's got a finger left over to wag at the Perrys too! Is nothing sacred?
Play your cards right. Popular ancient and medieval specialist Dan Mersey has some cracking ideas for solo scenario generators which can, of course, also be used in regular games. He describes his simple, but expandable system of deployment cards, featuring no less than fifteen deployment maps by your overworked Editor. Enough already!
Keeping it simple. Now, how's this: having been the subject of an extended piece by Arthur Harman last issue, author and rules writer Neil Thomas makes his Battlegames debut on his own account with a paean to rules that are unencumbered by superfluous detail. Thought-provoking stuff!
One down, 12,000 to go. Our house-trained Canadian gaming guru Bob Barnetson has undergone a catharsis and, in typically robust mood, has abandoned his love affair with Warmaster. Here, he partly describes the monumental 6mm re-basing project that this break-up necessitated, but it's more an explanation of just why his heart has turned cold towards the rules he played so much.
Perry, Perry good. Your Editor brings you the second mega-interview that came from that weekend in Nottingham last December. We find Michael and Alan Perry in the hotseat, exploring their youth, their inspiration and their techniques, hoping to give the reader some insight into what has taken them to the top of the miniature scupting tree and kept them there for so long.
Table Top Teaser. Charles Grant has come up with a corking tactical challenge in "The defence of Twin Peaks", a worthy test of generalship for any wargames commander, both for attacker and defender. We know this is going to get an outing in clubs and homes up and down the land!
Recce has plenty to say about the latest crop of books, rules and some scenic items this time.
Then of course we have the calendar of events supplied by Tricks of the Newark Irregulars; an exciting update for our Battlegames Combat Stress Appeal; and, to round things off, messages from your favourite advertisers.