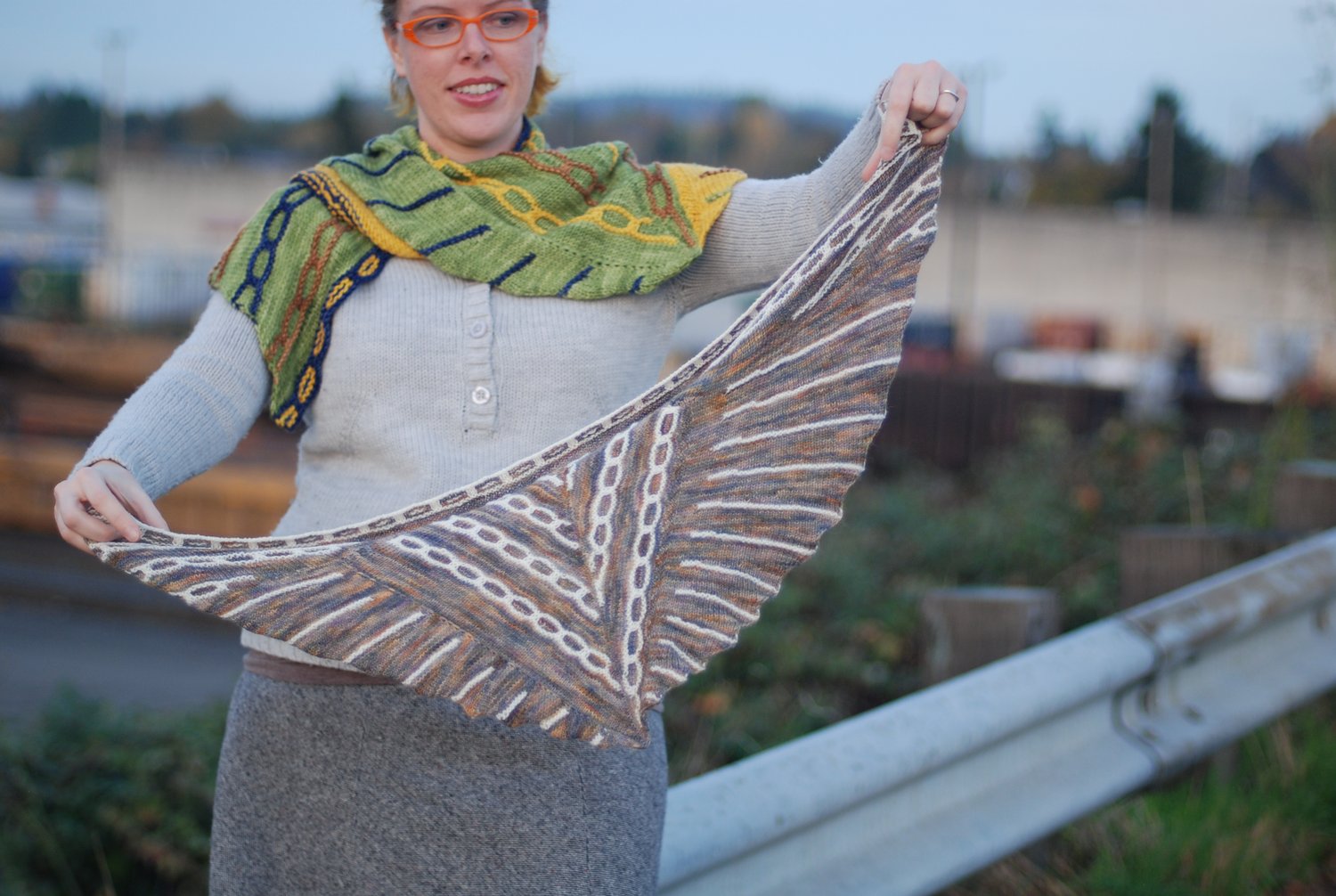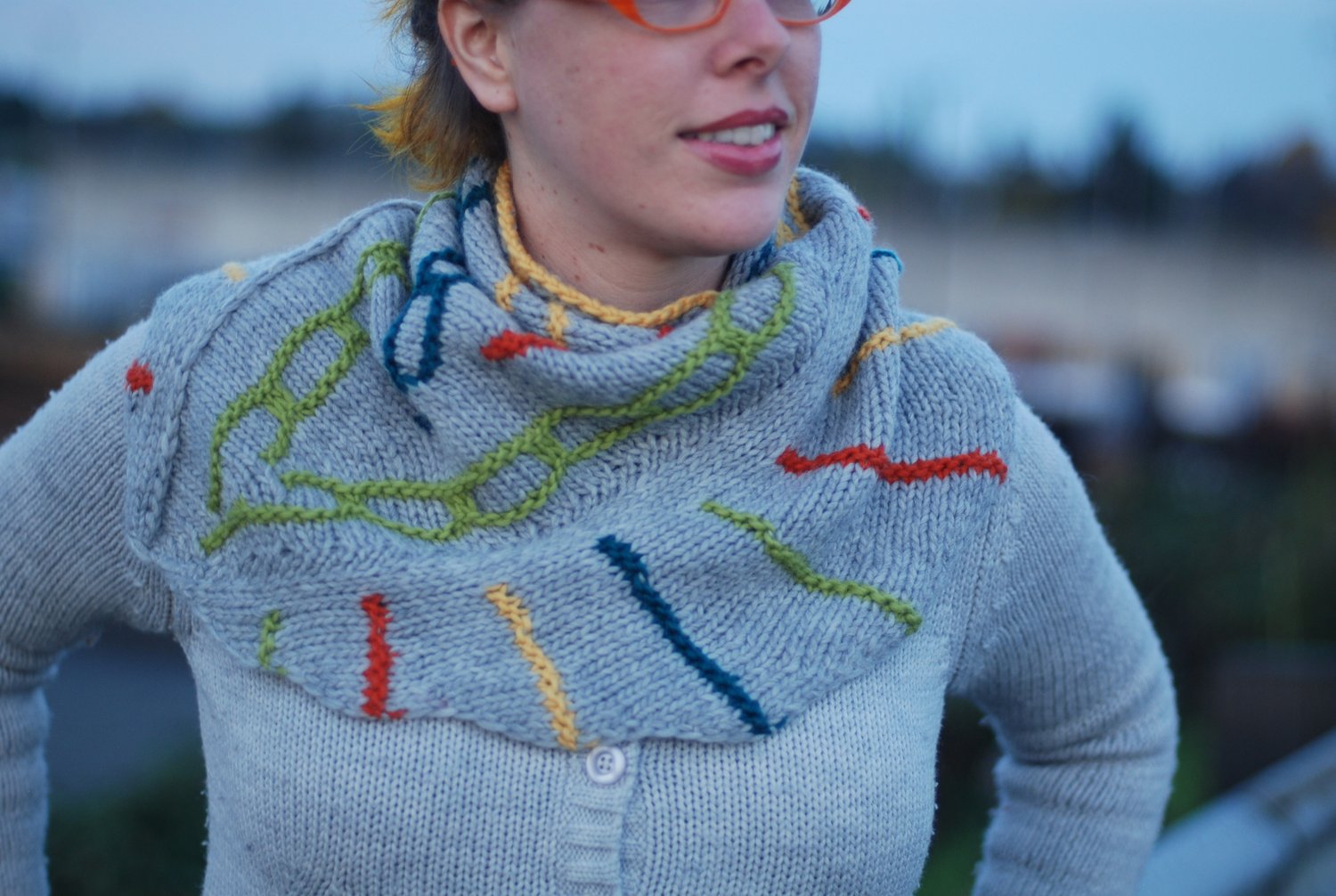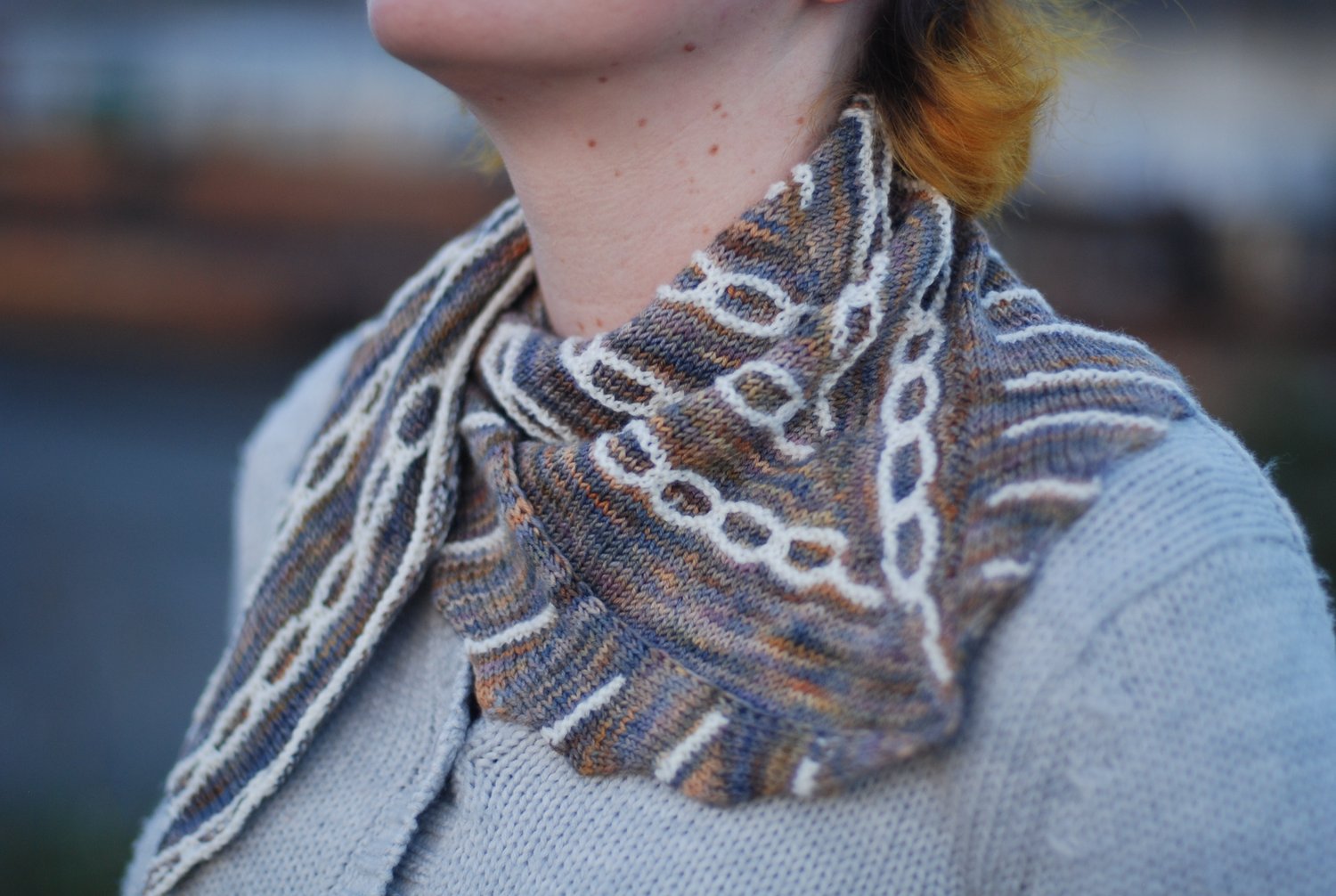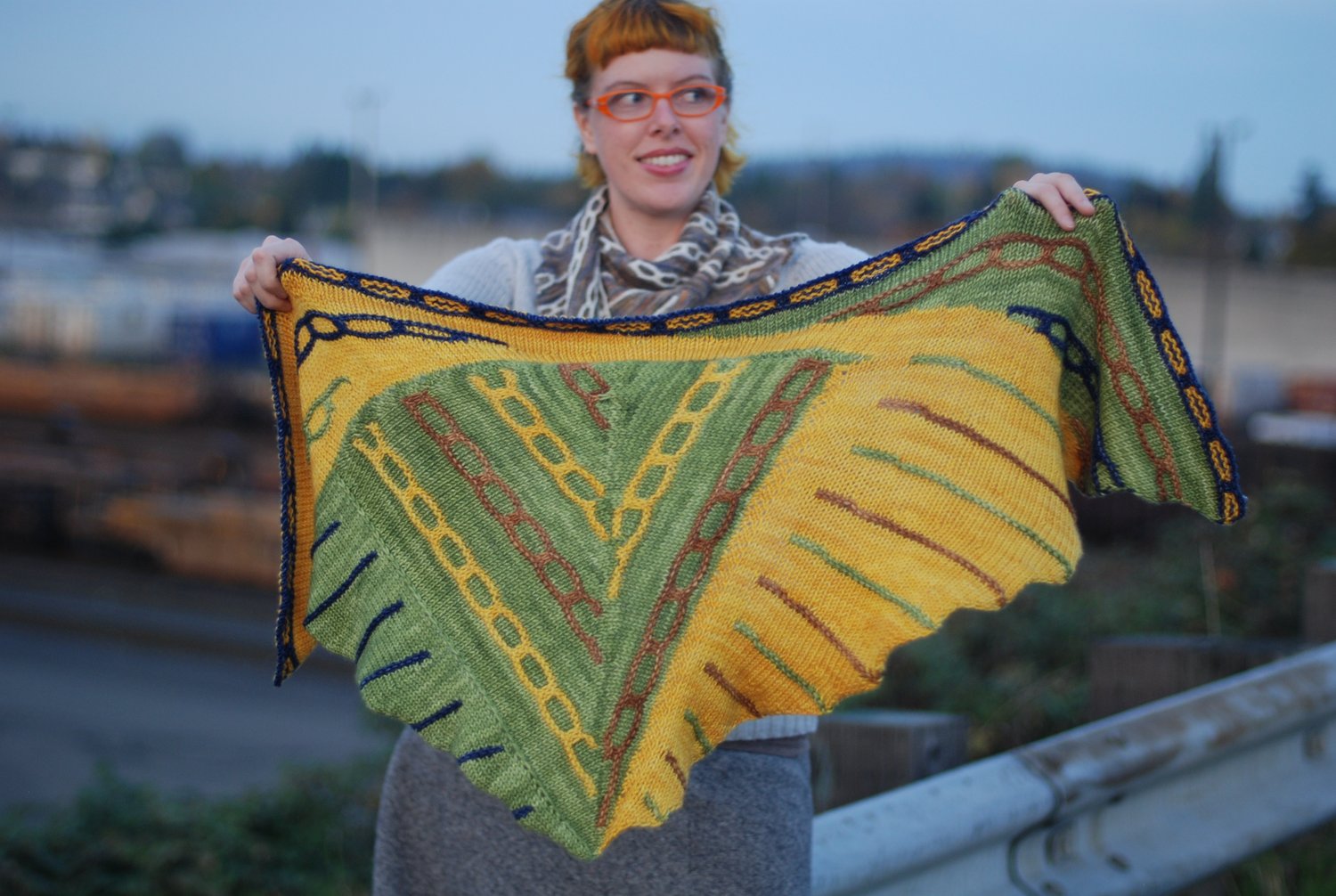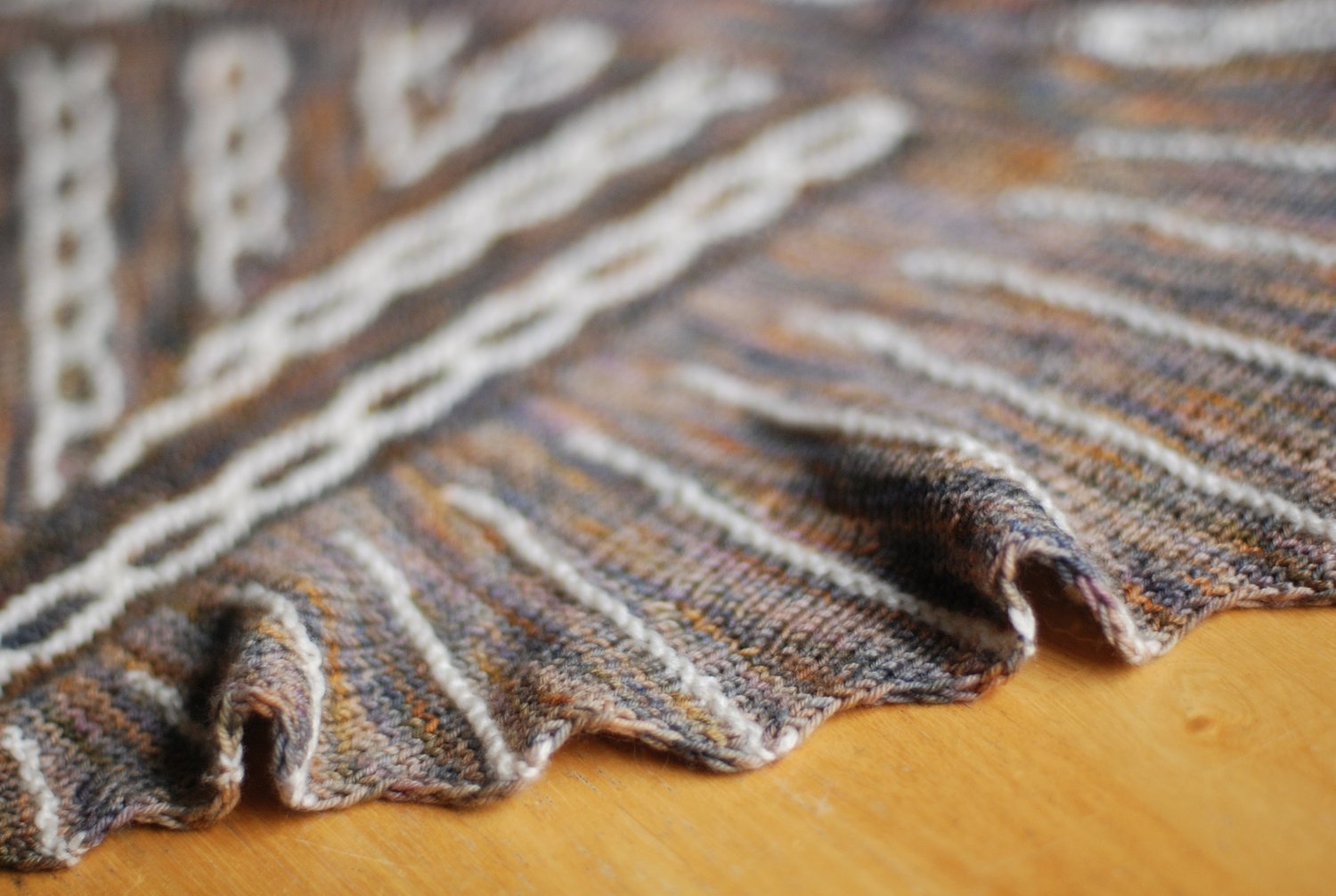 Junction
On Sale
any-gauge modular, asymmetrical, chain-adorned shawl in five sections with lots of color pattern options
any weight yarn and any size, in as many colors as you want
modular construction with no seaming or picked up stitches
includes photo tutorials for techniques used
how-to included for weaving in yarn ends as you knit
choose to use 1 or 2 main colors, and as many detail colors as you want — great for scraps!
achieve different looks in different yarn weights and shawl sizes
This pattern is for any weight yarn! A shawl constructed in sections, this can be made in any gauge (no swatching needed!) and in any size you like, with variation options based on your use of colors. The sections are all connected modularly, with no picked up stitches or sewing.
Weave in your ends as you knit it (tutorial included) and when you finish the final section, your shawl is done!
This stripy asymmetrical shawl can look very different in different yarn weights and sizes, as the details will be repeated different numbers of times depending on these specifics. Use a fine weight yarn for a more delicate shawl with smaller chains, or a heavy weight for a bold look with fewer large chains.
This pattern is complex, but it shouldn't be hard if you read carefully, follow each step as it's written, and trust the pattern! Be sure to read all the notes, take a look at the process photos, and pay attention to whether your piece is looking right along the way. Take it slowly, and have fun!
Any weight yarn can be used to make any size shawl — small(medium, large) sizes are approximately 36(48, 60) inches / 90(120, 150) cm wide, and it's super easy to modify to make different sizes as well, like extra large.
You'll Need
any weight yarn, for sizes small[medium, large], approx 350-450[500-650, 700-850] yards / 320-410[450-600, 650-780] meters total fingering, 250-300[370-450, 500-600] yards / 230-275[340-410, 450-550] meters total worsted, 200-250[280-330, 350-400] yards / 180-230[250-300, 320-370] meters total chunky; a bit more than 3/4 of total yardage is the main color, and a bit less than 1/4 of total is the contrasting details; if using 2 main colors, each is approximately 1/2 the total main color yardage
needles sized to match your yarn, for a loose-ish gauge, a long circular, ideally 60" or as long as you have