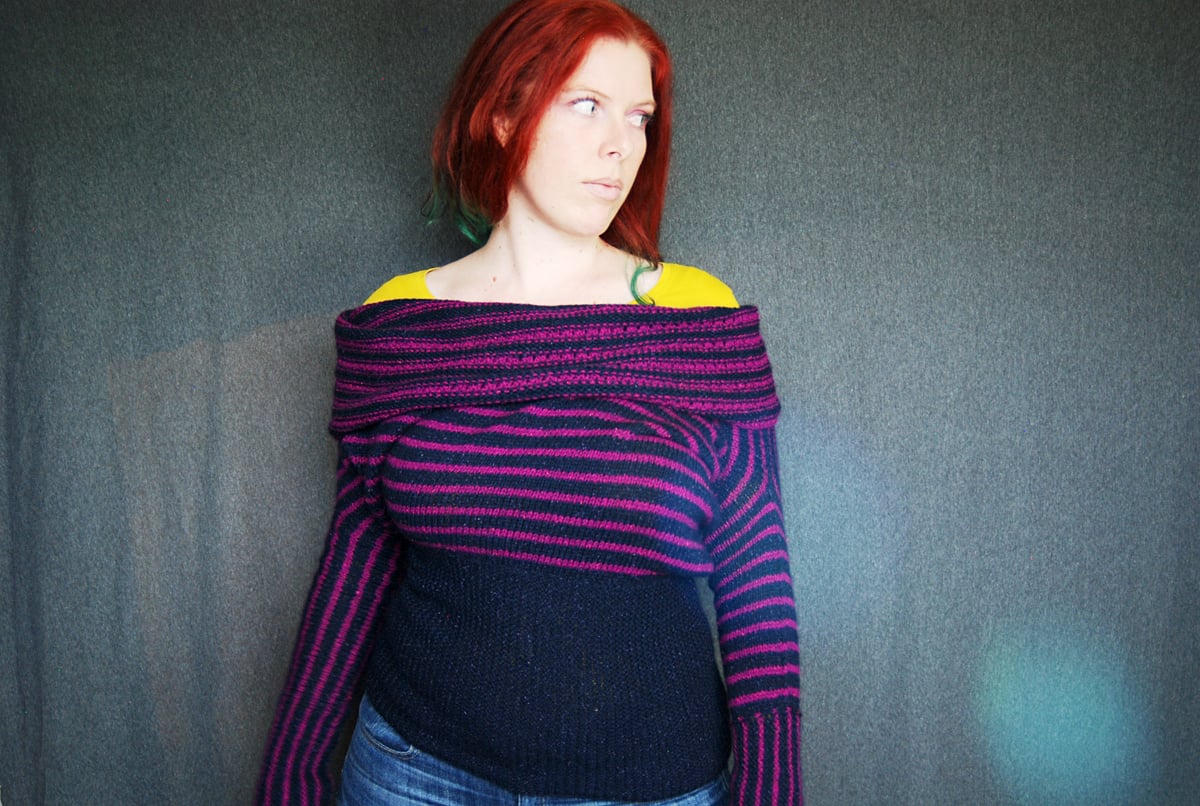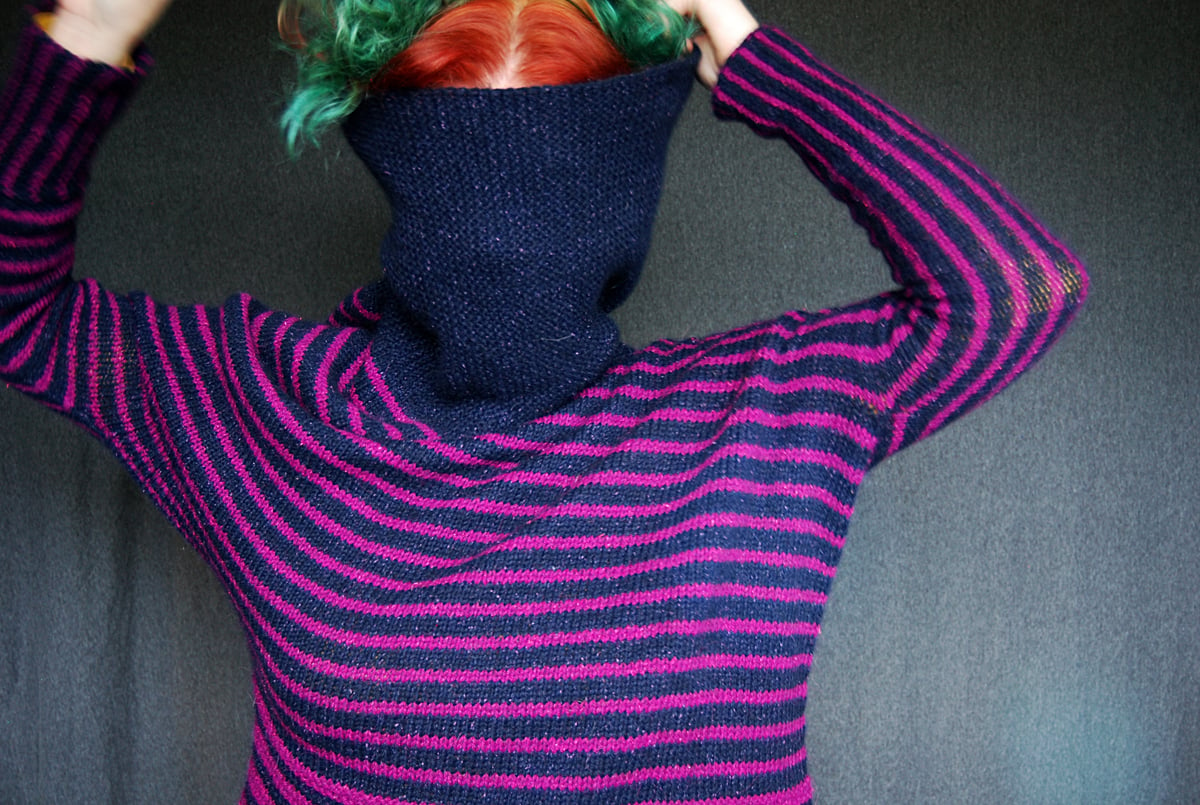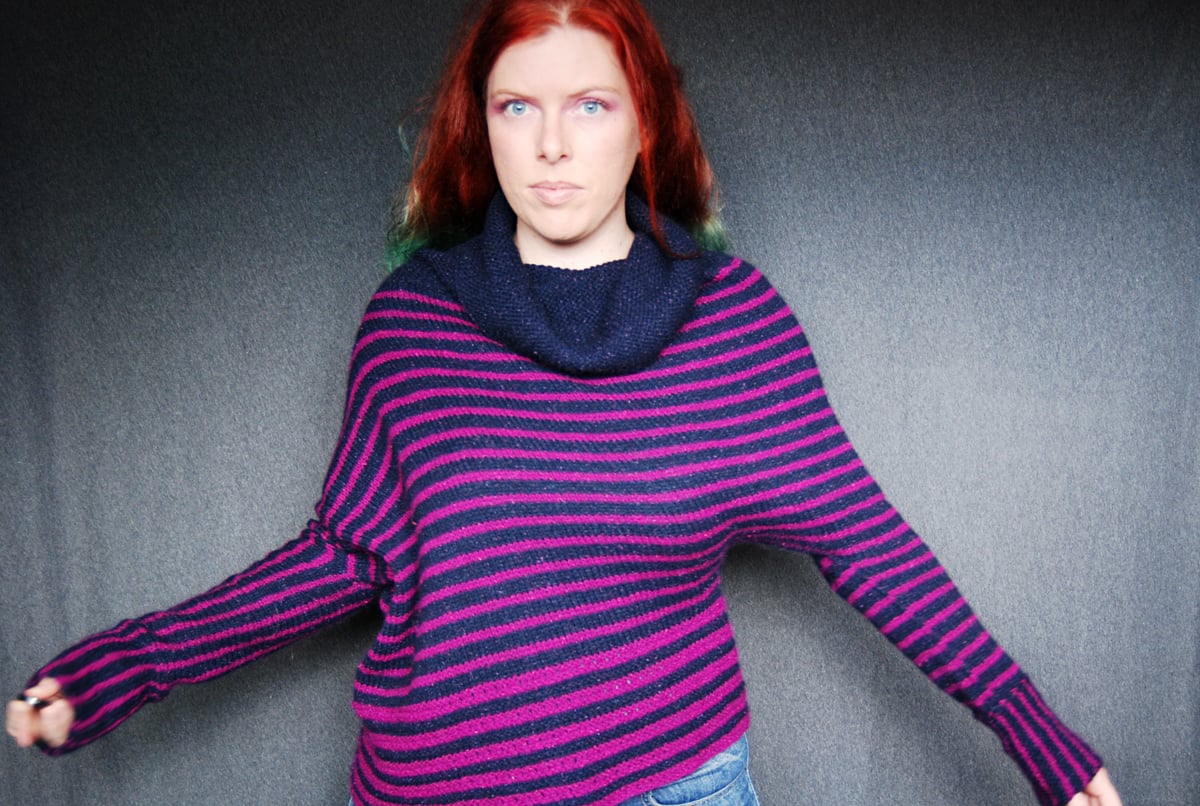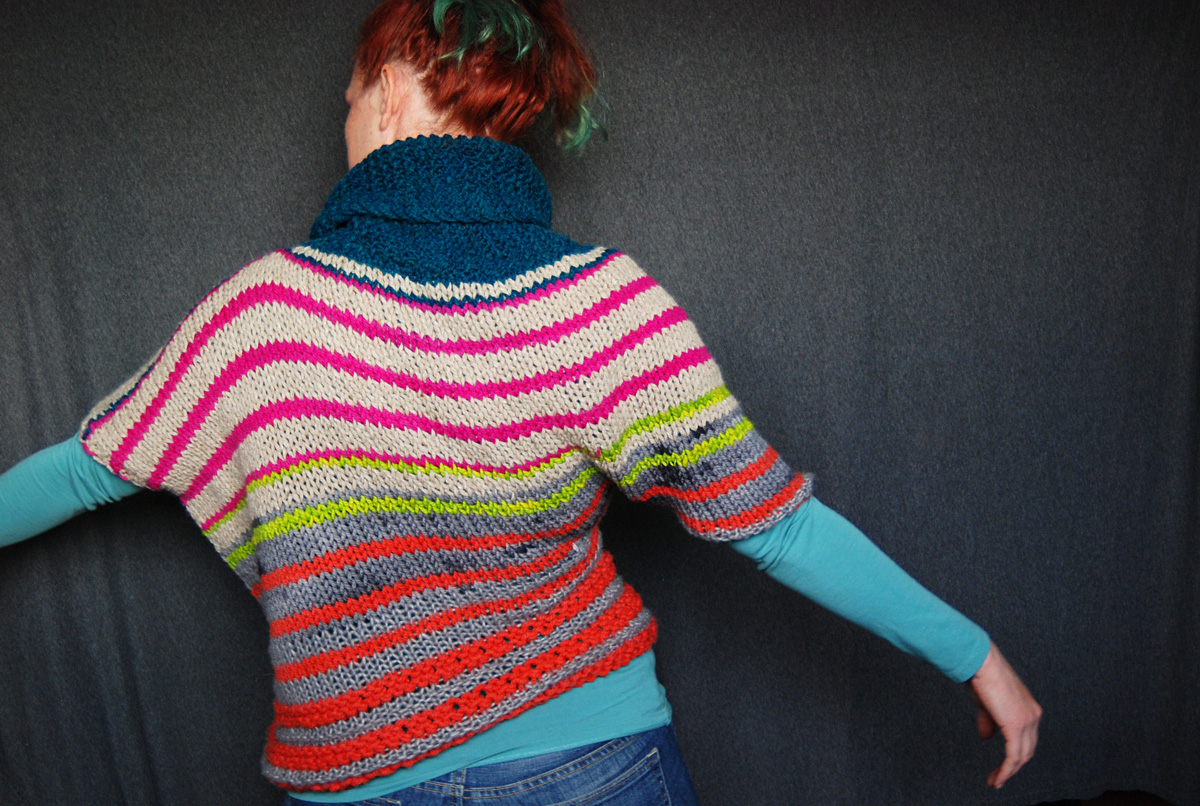 Tionne
On Sale
Preview
asymmetrical, stripy, flippable pullover, custom sized in any gauge
This is part of the
Full Body Trio
: each individual pattern is $6 or the set of all three is $12.
use ANY weight yarn for a custom-sized sweater
project requires math (simple with a calculator) to find your custom numbers
modular construction with no picked up stitches or sewn seams
sweater can be worn in any direction for different styles
short sleeved variation is included
wide, striped cowl neck can be tied/buttoned/pinned into different styles
sweater is asymmetrical and boxy, with no shaping, meant to be loose fitting
This asymmetrical stripy pullover is custom fit to your body, with a boxy, oversized, snuggly shape, in any gauge, and it can be worn in any direction! Get really different kinds of sweaters depending on your yarn weight, and on the density of your gauge.
This project requires some math before you start knitting — all basic adding, subtracting, multiplying, and dividing (very easy with your calculator app). To customize the pattern for your yarn and body, you will make a gauge swatch, and take a few measurements on yourself; then you'll fill out a worksheet to find all the numbers to plug into the pattern, making it sized just for you, in whatever yarn and gauge you want to use.
The piece is almost entirely garter stitch worked flat and stockinette worked around, meaning very little purling — only 2 of the 6 sections involve purling. All the long rows of plain knitting make this an excellent multi-task knit! Once you get each section set up, it's easy to knit while focusing your attention elsewhere.
Constructed modularly, using short row techniques to cast on and bind off stitches sideways, provisional cast-on methods, and grafting, there are no sewn seams, no picked up stitches, and very few extra ends to weave in. Finishing steps are grafting some edges together with kitchener stitch, and sewing up a few holes.
The sleeves can be made whatever length you like, and the pattern includes a short sleeved variation, which makes a great mild-weather layer, especially if made in a lightweight yarn, and/or a loose, drapey gauge — it comes down to just above the elbows.
Tionne sweaters are not meant to fit like a normal pullover, they are very asymmetrical and the shoulders/sleeves are meant to be pulled down so the armpits are low, to avoid bunched up fabric around the upper body. When worn with the striped side as the neck, there is a huge, wide cowl neck — this can be folded over, to sit around the shoulders, or tied/buttoned/pinned in different kinds of styles, using the eyelet holes in the stitch pattern.
The pattern includes a detailed schematic, a diagram showing how to measure yourself, 16 process photos showing how the piece is constructed, photo tutorials for the crochet provisional cast-on and Judy's Magic Cast-on, step-by-step instructions for grafting the different sections.
You Need
enough yarn in any weight (click the PDF preview to read full details)
2 circular needles, sized to match your yarn

one 60"/150cm and one 24"/60cm or 32"/80cm is best
Weight / Gauge
Any gauge will work for any size sweater, but different weights/gauges will make for different looks, of course. Use a heavy weight for a big, cozy sweater; use a fine weight, fingering or sport, for a lighter layer.
Using a needle size slightly larger than the standard recommended size is a good idea, so the sweater drapes well, because of the oversized shaping. At least 1-2 sizes larger than the standard size is recommended, or if the ball band gives a range of sizes, then use the largest, or 1 size larger.