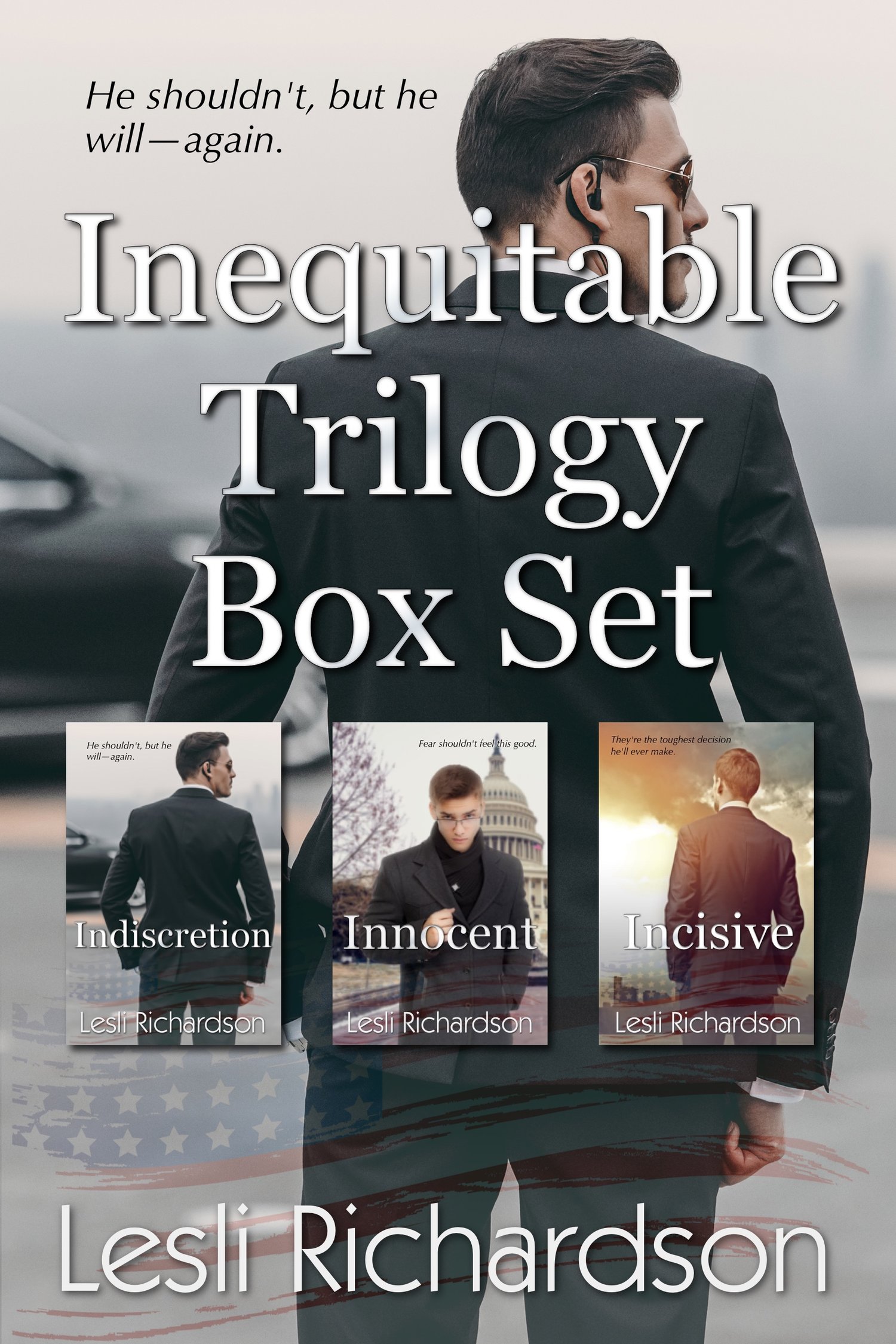 Inequitable Trilogy Box Set [ebook]
$999.99
(Ebook Version)
This is exclusive to my PayHip store due to the file size and pricing; Amazon takes too big a chunk out of the royalties for anything over $9.99. There is NO new content versus buying all the books individually.
All three books in the Inequitable Trilogy series in ONE box set!
(This MMM contemporary political romance features elements of power exchange, secret workplace romances, a pants-dropping late-night tryst in the Oval Office, a switchy and possessive POTUS, close proximity, frenemies to lovers, a May/Dec age gap, a stubbornly patient Secret Service agent who'd do anything for the men he loves, a wounded veteran, smol and tall pairing, pining, and a guaranteed series HEA. It's a standalone trilogy set in the world of the Governor Trilogy.)
Meet Leo, Jordan, and Elliot: A Secret Service agent, an innocent… and POTUS.
He shouldn't, but he will—again.
Fear never felt this good.
They're the toughest decision he'll ever make.
* * *
Leo Cruz is an experienced former Secret Service agent. Even though he survived a small-plane crash, being the body man for President ShaeLynn Samuels is frequently the most terrifying job he's ever held.
VP Elliot Woodley is deep in the closet and has his eye on being POTUS in eight years. Trouble is, Leo can't let Elliot go despite Elliot's inability to commit to something long-term between them.
In walks young Jordan Walsh, like a lamb among starving lions.
And Leo's feeling pretty damn hungry.
Jordan Walsh never imagined he'd find himself in a strange, secret, sexy tug-of-war between Vice President Elliot Woodley and Leo Cruz, President Samuels' body man. Every ounce of common sense in Jordan's head tells him to run—not walk—fast and far from both men. The problem is, they've tangled Jordan so deeply in their web he's not sure he wants to leave.
Unfortunately, there are those who would stoop to anything to twist Elliot to their will.
And the last thing standing between Elliot and complete destruction…is Jordan.
Elliot Woodley has dreamed about being president since he was a kid. He's spent his entire life working toward that goal, even though it's meant living in the deepest and darkest of closets to do so.
Except Leo saw through him. Elliot knows he should let the man go…
Yet he can't.
He also knows Leo's deliberately baiting him with Jordan.
Leo insists they can have it all. Jordan doesn't seem to grasp how badly things can go if their secret escapes.
Elliot can't stand the thought of the two of them walking off into the sunset together and leaving him behind.
But can he find the courage to ask them to stay?