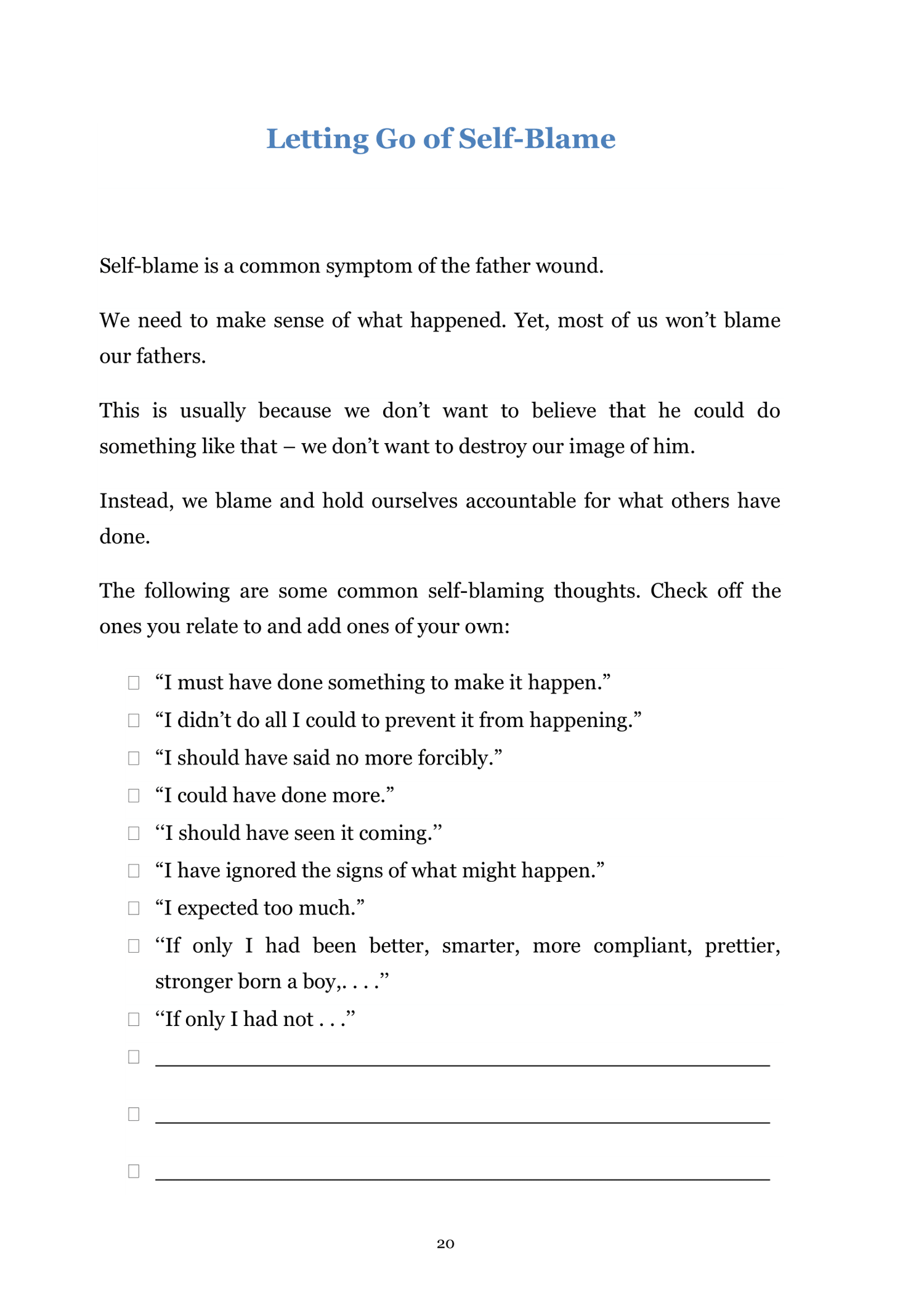 Healing The Father Wound Worksheets
On Sale
$7.00
There is no question that fathers play an important part in their children's lives.
When fathers are actively present in a loving, nurturing relationship, children have greater self-confidence and wellbeing. 
Do you relate to any of the following?
You experienced lack of love and acceptance from your father and blamed yourself for being unlovable or unworthy.
You find yourself with romantic partners who remind you of your father, even though you've been hurt by your father.
You experience "father rage" that you often channel into food, alcohol, drugs, sex, success, or any other addiction.
If so, these worksheets are right for you. 
+35 PAGES OF EXERCISES AND ACTIVITIES
WHAT IS INCLUDED?
What Is The Father Wound?
Symptoms of the Father Wound
Exploring Your Relationship With Your Father
What's Your Father Wound?
Put Your Thoughts On The Witness Stand
Getting to Know Your Father
Holding an "Interview"
Letting Go of Self-Blame
Addressing Unresolved Grief
Getting Closure
Assessing Your Relationship With Your Father
Requesting A Change
Establishing Boundaries
Should You Forgive?
Forgiving Your Father
Forgiving Yourself
FREQUENTLY ASKED QUESTIONS
HOW DO I KNOW IF THSE WORSHEETS ARE RIGHT FOR ME?
These worksheets are ideal for anyone who grew up with an emotionally unavailable or absent father and needs an affordable guide to help them on their healing journey. 
WHAT IS THE FORMAT?
You will receive a digital PDF copy of the "Healing The Father Wound worksheets."
THIS IS A DIGITAL PURCHASE. NOTHING WILL BE SHIPPED.HOW DO I FILL IT OUT?
Print out the PDF and fill out by hand or alternatively fill them out digitally straight on your computer or phone using a PDF reading software such as Adobe Reader (Free) or Adobe Acrobat, or apps like apps like XoDo or GoodNotes or pdfFiller.
You may print as many copies as you need of each page.
HOW SOON WILL I HAVE ACCESS?
Immediately! You will have access to your worksheets. An automatic email receipt is sent which includes the link to your download page where you can instantly download the files you've purchased.
WHAT IS YOUR RETURN POLICY
?
All sales are final. However, I am confident that these worksheets will provide the strategies you need to get started.
"If you ever encounter technical issues in downloading the file after purchasing, using the email that you used to buy this product please send me a message here [Ineffliving@gmail.com] with a screenshot of your purchase attached and I will personally send you the files :) "