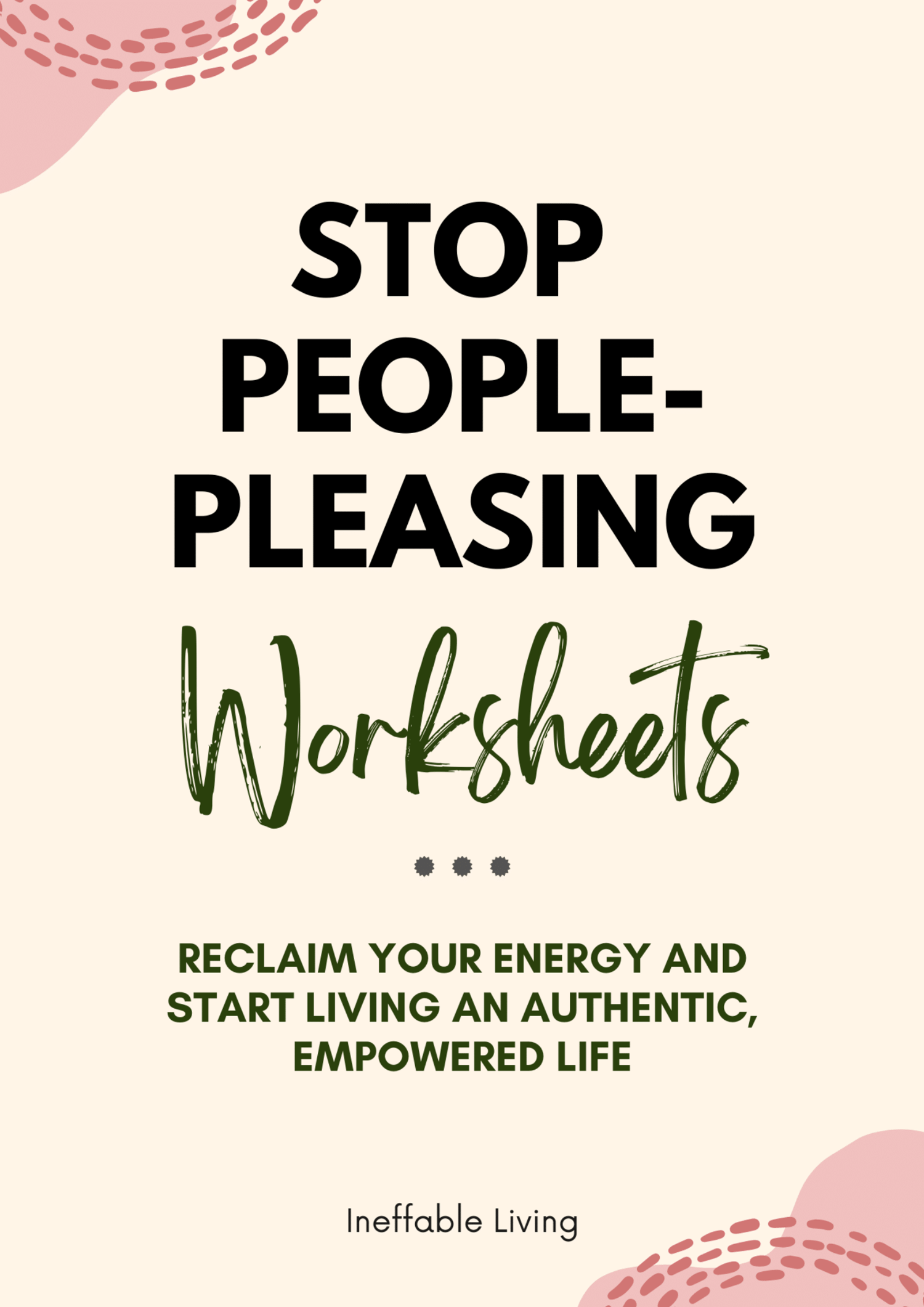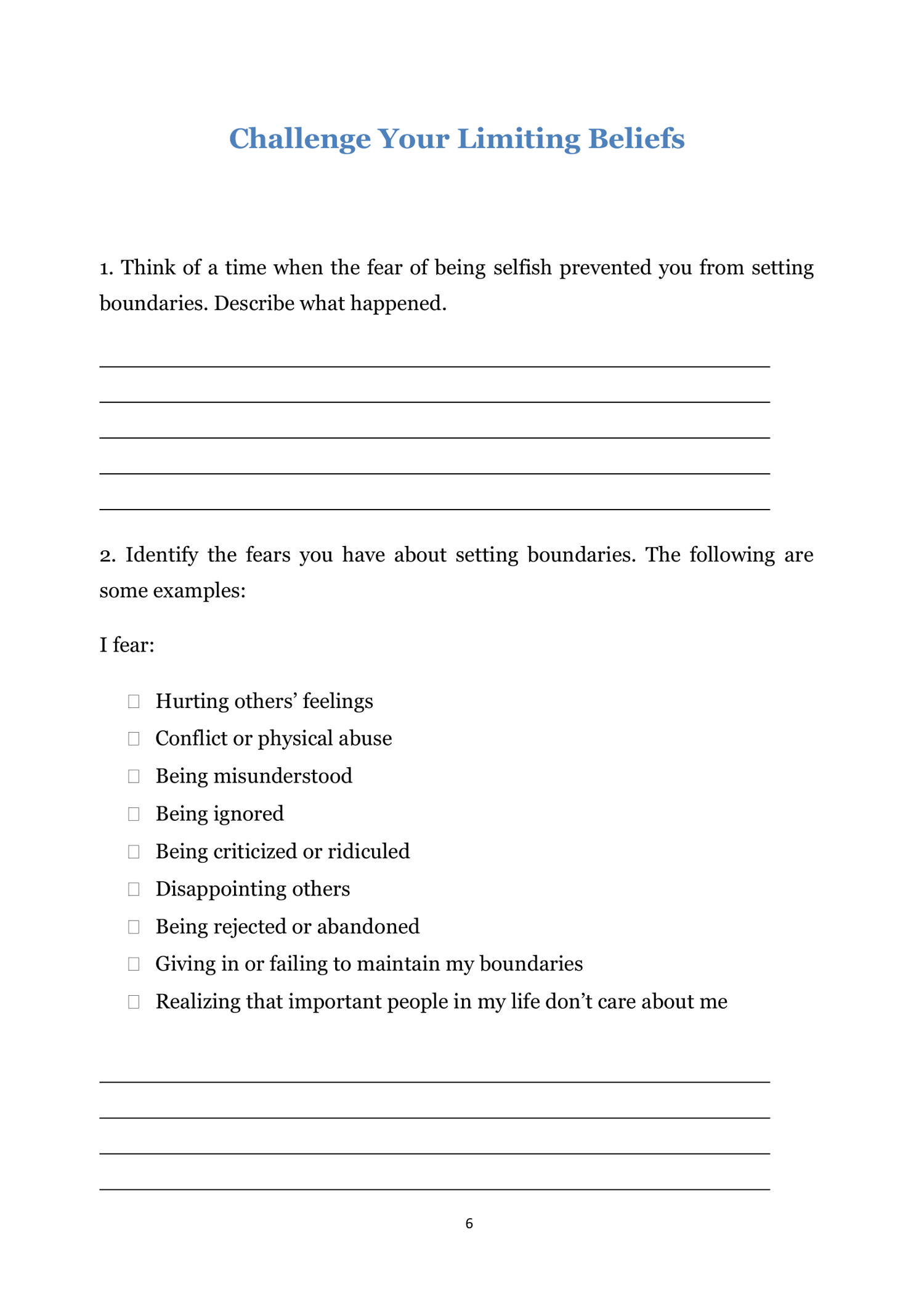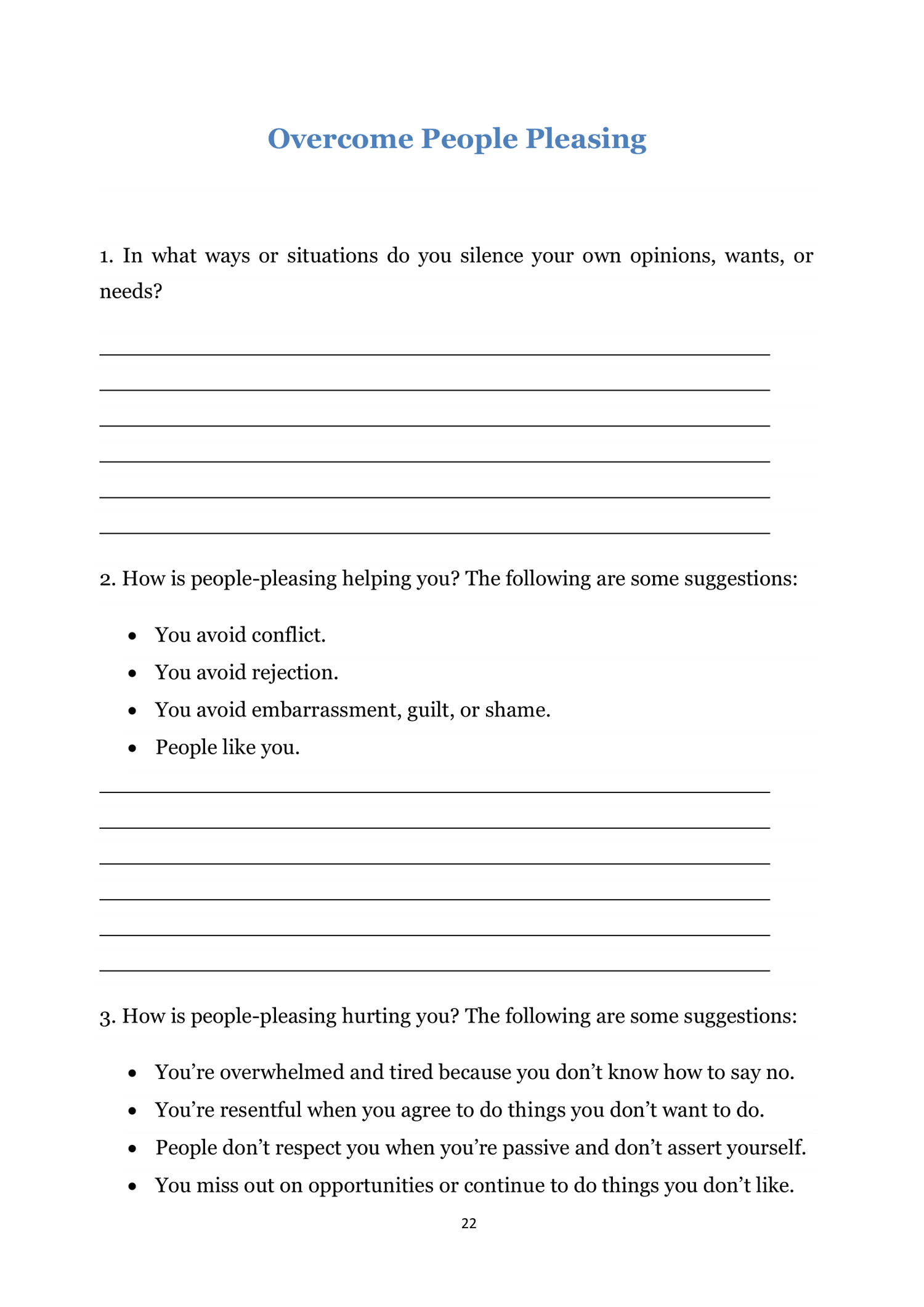 Stop People-Pleasing & Set Boundaries Worksheets
On Sale
READY TO RECLAIM YOUR ENERGY AND START LIVING AN AUTHENTIC, EMPOWERED LIFE? 
DOES ANY OF THE FOLLOWING SOUND FAMILIAR?
You feel responsible for how other people feel about you. And the thought that someone might be mad at you makes you feel uncomfortable.
You go to great lengths to avoid conflicts and disagreements.
You're more inclined to agree with people than to express a contrary point of view.
You often find yourself apologizing even when you don't think you did anything wrong.
You don't, usually, tell people when you feel hurt or offended by something they did or said.
You change your behavior based on what you think other people expect from you.
You struggle to say NO when people ask you for favors, even if you don't want to do something or don't have the time and energy to do it. As a result, you often feel overburdened and overscheduled by all the things you have to do.
IF YOU NEED A SIMPLE AND AFFORDABLE GUIDE TO HELP YOU SET HEALTHY BOUNDARIES AND OVERCOME PEOPLE-PLEASING.... YOU NEED THIS.
WHAT IS INCLUDED?
+35 pages of journaling prompts and exercises to help you:
Understand what prevents you from standing up for yourself.
Challenge negative beliefs around setting boundaries.
Work through your feelings of discomfort and guilt about setting boundaries.
Learn practical strategies to effectively set and maintain healthy emotional boundaries.
FREQUENTLY ASKED QUESTIONS
 HOW DO I KNOW IF THESE WORKSHEETS ARE RIGHT FOR ME?
These worksheets are for anyone who is struggling with setting boundaries and needs effective, scientifically-proven strategies to learn how to reclaim their energy back and live more authentically.
These worksheets are intended to be a continual resource. Even after you've completed them, you will need to continue practicing setting and maintaining boundaries. Whenever you find yourself struggling to set a new boundary or need to refresh your skills, come back to these worksheets. 
WHAT IS THE FORMAT?
You will receive a digital PDF copy of the "Stop People-Pleasing Worksheets".
You can print these worksheets out and you can also fill them in straight from your computer or phone. With your phone, apps like XoDo or GoodNotes allow you to "write" inside the PDF!
HOW SOON WILL I HAVE ACCESS?
Immediately! You will have access to the files you've purchased. An automatic email receipt is sent which includes the link to your download page where you can instantly download the files you've purchased. 
WHAT IS YOUR RETURN POLICY?
Due to the nature of the product, all sales are final. However, I am confident that this material will provide the strategies you need to get started. 
"If you ever encounter technical issues in downloading the file after purchasing, using the email that you used to buy this product please send me a message here with a screenshot of your purchase attached [Ineffliving@gmail.com] and I will personally send you the files :) "