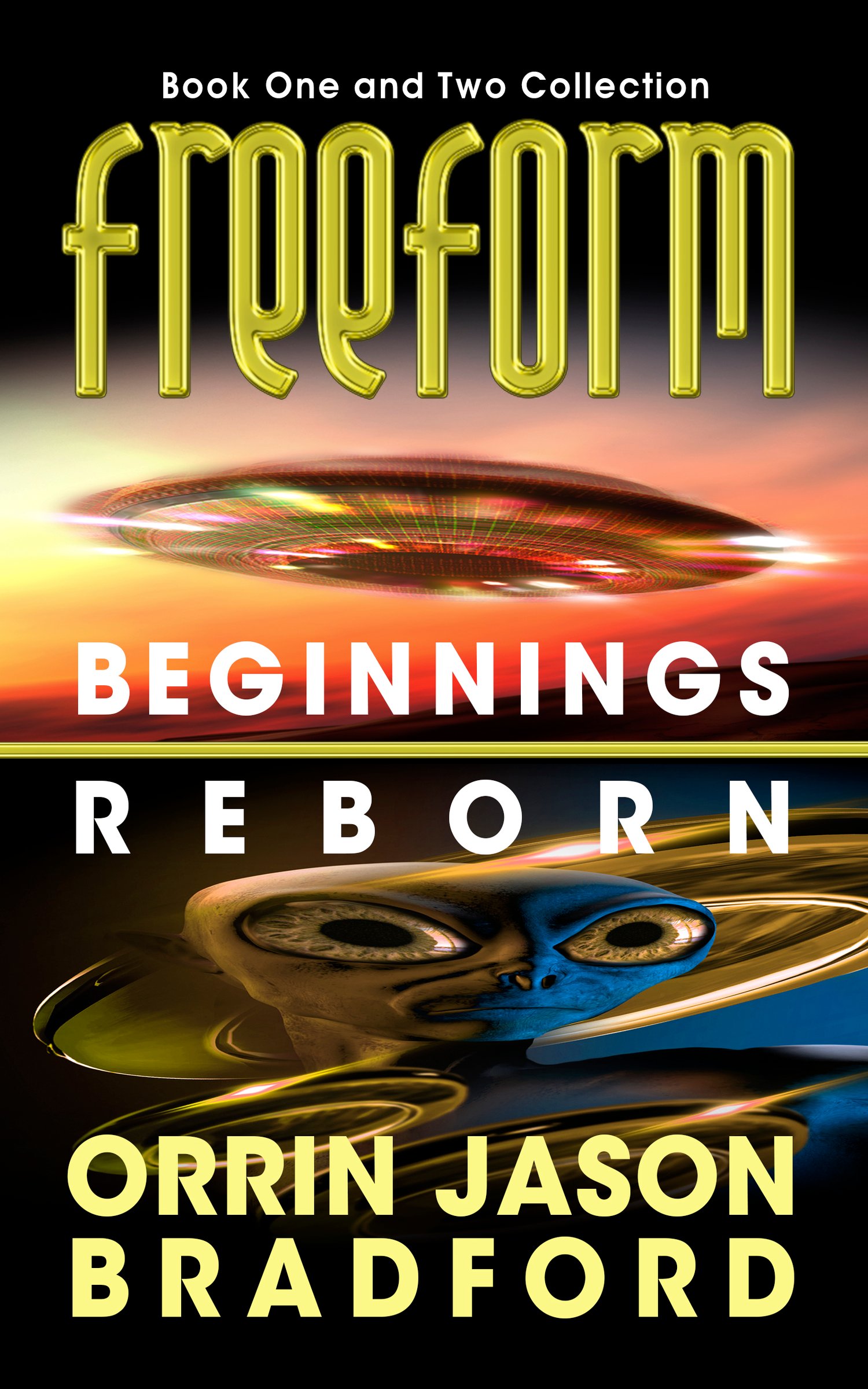 FreeForm 2 Book Combo: Beginnings & Reborn
An Alien First Contact Science Fiction Thriller
An unseen invasion: the ultimate threat...In book one, FreeForm: Beginnings
When a mysterious spacecraft is uncovered in the North Carolina mountains, agent Pat Vogt's life begins to look increasingly alien. Betrayed by her own government, she's forced to unravel a conspiracy that holds implications for existence on Earth...and beyond.
Years later, Vogt returns to find the mountain town of Waynesboro fostering secrets much darker than she'd ever imagined. Even her closest ally, Dr. Allen Pritchard, withholds crucial information, and his desire to mend a painful past may jeopardize the human race.
Who is genetic engineer Fredic Homlin, and what connection does the Biogentrix Corporation's chilling technology touted as the 'play dough of life' represent? Can one headstrong woman reveal the truth in time, or will something else be sown?
Beginnings is the shifting shape of much that lies ahead...an alien attack of a different sort.
In book two, FreeForm: Reborn
A new physique. An old façade...
In light of what she's seen, former ufologist Pat Vogt is reluctant to conceal the nature of Allan Pritchard's seeming nephew. TJ isn't as he appears, and the boy's history could mean a bleak future for mankind. Are Pat and Allan instilling humanity or nurturing a malevolent force? Would the true monster be borne by betrayal? As TJ learns to harness his powers, the stakes mount ever higher.
Meanwhile, hidden away in a backcountry cave, another lifeform is growing...exponentially. With the help of a shadowy benefactor known only as 'Aeo', Doctor Homlin's plans have received new breath. Soon to emerge is Val, a hungry incarnate that won't rest until its progenitor's vision becomes reality.
Ex-operative James Stepp may hold the key to salvation, but how much responsibility can be entrusted to a mercenary...?
Building upon its own powerful predecessor, Book II of O.J. Bradford's FreeForm Series thickens the plot, dials up the tension, and doubles down on a rallying cry for excellence in modern SF. Readers that hope to be whisked away, prepare for a brisk abduction.
Orrin Jason Bradford's style has been compared to the "early works of Dean Koontz and the late great Michael Crichton." 
Freeform: Beginnings
 is the first novel in the action-packed, sci-fi Freeform series. If you're a fan of fast-paced sci-fi novels with exciting storylines and unforgettable characters including a female protagonist that kicks butt, get your hands on this thriller by Orrin Jason Bradford!
The FreeForm series includes:
FreeForm: Crash (a prequel)
FreeForm: Beginnings
FreeForm: Reborn
FreeForm: Resumed
FreeForm: New Birth
FreeForm: New Power
FreeForm: New Earth