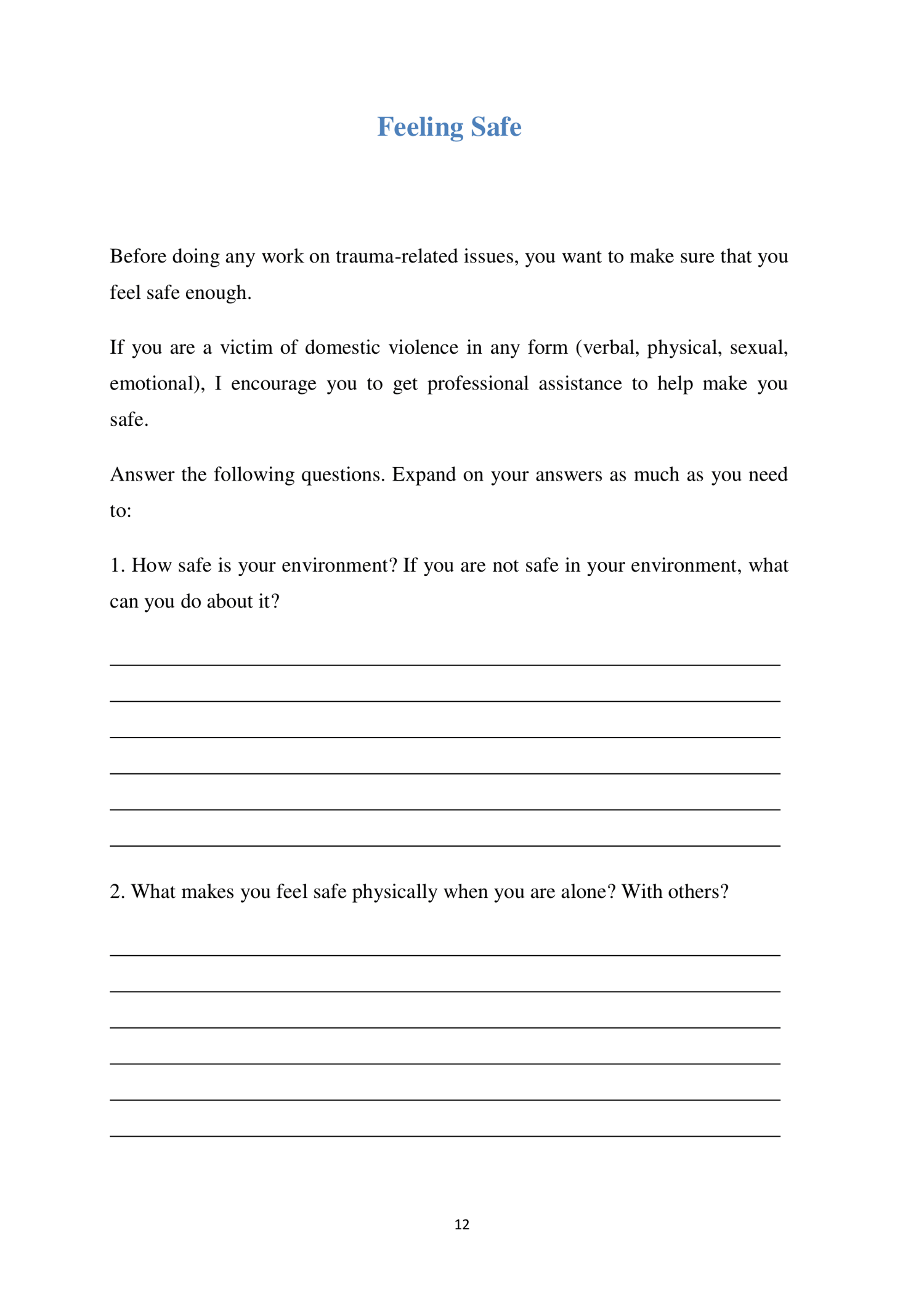 Healing Trauma Worksheets
On Sale
READY TO HEAL YOUR TRAUMA AND EMPOWER YOURSELF?


+80 Pages of Activities and prompts to support your trauma healing.ARE YOU EXPERIENCING ANY OF THE FOLLOWING?
unwanted and involuntary thoughts,
flashbacks,
nightmares ,
emotional distress (frequent feelings of anxiety, helplessness, hopelessness, deep loneliness, shame, unfairness, and depression) and/or physical reactivity,
negative thoughts and assumptions about oneself, others, and the world in general,
a state of hypervigilance (always being "on guard") and heightened startle reaction (very jumpy)
a state of derealization (the experience of feeling detached and dissociated from your surroundings) or depersonalization (the experience of feeling detached and dissociated from oneself, as if you were an outside observer).
IF YOU NEED A SIMPLE AND AFFORDABLE GUIDE TO SUPPORT YOUR HEALING FROM TRAUMA.... YOU NEED THIS.
WHAT IS INCLUDED?
What Is Post-Traumatic Stress Disorder (PTSD)?
Identify Trauma Factors
Identify Your Symptoms
Feeling Safe
Find Social Support
Commit to Working on Trauma
Self-Care
Check-in With Yourself
Manage Your Anger
Dealing with flashbacks and dissociation
Exposing Yourself Safely: Name Your Trauma
Exercise: Challenge Thinking Errors
Managing Nightmares
Manage Feelings of Shame
Regulate Your Stress Response
Mindfulness
Mindfulness Meditation
Calming Affirmations
Prolonged Exposure
Are You Considering Therapy?
Lifestyle Changes to Support Your Healing
...and more.
FREQUENTLY ASKED QUESTIONS
 HOW DO I KNOW IF THESE WORKSHEETS ARE RIGHT FOR ME?
While these worksheets can help you work through traumas that are causing you low to moderate levels of distress, it is best to do these worksheets along with professional help. I recommend seeking the help of a qualified traumatologist, preferably one certified by the Association of Traumatic Stress Specialists (ATSS).  
WHAT IS THE FORMAT?
You will receive a digital PDF copy of the "Healing Trauma Worksheets".
HOW DO I FILL IT OUT?
Print out the PDF and fill out by hand or alternatively fill them out digitally straight on your computer or phone using a PDF reading software such as Adobe Reader (Free) or Adobe Acrobat, or apps like apps like XoDo or GoodNotes or pdfFiller.  
HOW SOON WILL I HAVE ACCESS?
Immediately! You will have access to your files. An automatic email receipt is sent which includes the link to your download page where you can instantly download the files you've purchased. 
WHAT IS YOUR RETURN POLICY?
Due to the nature of the product, all sales are final. However, I am confident that these worksheets will provide the strategies you need to get started.