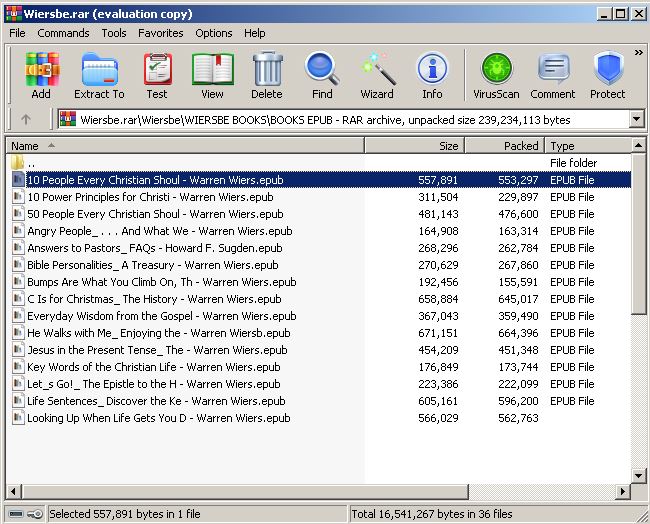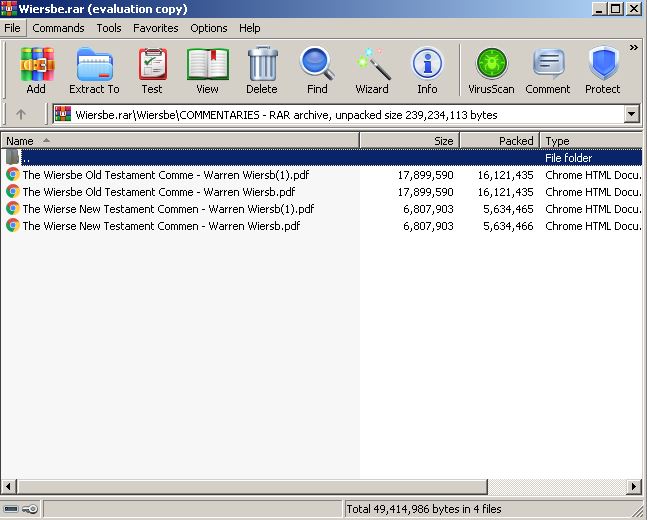 WARREN W. WIERSBE 134 COLLECTIONS
-WIERSBE'S BOOKS (35 BOOKS)
1. 10 People Every Christian Should Know
2. 10 Power Principles for Christian Service
3. 50 People Every Christian Should Know: Learning from Spiritual Giants of the Faith
4. Angry People:... And What We Can Learn From Them
5. Answers to Pastors' FAQs
6. Bible Personalities: A Treasury of Insights for Personal Growth and Ministry
7. Bumps Are What You Climb On, The: Encouragement for Difficult Days
8. C Is for Christmas: The History, Personalities, and Meaning of Christ's Birth
9. The Cross of Jesus: What His Words From Calvary Mean for Us
10. The Dynamics of Preaching
11. Everyday Wisdom from the Gospels (Ebook Shorts): Devotional Reflections
12. He Walks with Me: Enjoying the Abiding Presence of God
13. The Intercessory Prayer of Jesus: Priorities for Dynamic Christian Living
14. Jesus in the Present Tense: The I AM Statements of Christ
15. Keywords of the Christian Life: Understanding and Applying Their Meanings
16. Let's Go!: The Epistle to the Hebrews for Twenty-First Century Christians
17. Life Sentences: Discover the Key Themes of 63 Bible Characters
18. Looking Up When Life Gets You Down
19. Ministering to the Mourning: A Practical Guide for Pastors, Church Leaders, and Other Caregivers
20. The Names of Jesus
21. Old Testament Words for Today: 100 Devotional Reflections
22. On Being a Leader for God
23. On Being a Servant of God
24. On Earth as It Is in Heaven: How the Lord's Prayer Teaches Us to Pray More Effectively
25. Pause for Power
26. Pause for Power: A 365-Day Journey Through the Scriptures
27. Prayer 101: Experiencing The Heart Of God
28. Prayer, Praise & Promises: A Daily Walk Through the Psalms
29. Preaching and Teaching With Imagination: The Quest for Biblical Ministry
30. Real Peace: Freedom and Conscience in the Christian Life
31. Real Worship: Playground, Battleground, or Holy Ground?
32. The Strategy of Satan
33. This Is the Life!: Enjoying the Blessings and Privileges of Faith in Christ
34. Too Soon to Quit!: Fifteen Achievers From the Bible Teach Us How to Keep Going and How to Finish Well
35. With the Word: The Chapter-By-Chapter Bible Handbook
-WIERSBE COMMENTARIES (2 PDF)
1. The Wiersbe Old Testament Commentary (PDF)
2. The Wiersbe New Testament Commentary (PDF)
-THE BE SERIES (50 BOOKS)
1. Be Alert (2 Peter, 2 & 3 John, Jude): Beware of the Religious Impostors
2. Be Alive (John 1-12): Get to Know the Living Savior
3. Be Amazed (Minor Prophets): Restoring an Attitude of Wonder and Worship (The BE Series Commentary)
4. Be Authentic (Genesis 25-50): Exhibiting Real Faith in the Real World (The BE Series Commentary)
5. Be Available (Judges): Accepting the Challenge to Confront the Enemy
6. Be Basic (Genesis 1-11): Believing the Simple Truth of God's Word
7. Be Comforted (Isaiah): Feeling Secure in the Arms of God
8. Be Committed (Ruth & Esther): Doing God's Will Whatever the Cost (The BE Series Commentary)
9. Be Compassionate (Luke 1-13): Let the World Know That Jesus Cares
10. Be Complete (Colossians): Become the Whole Person God Intends You to Be
11. Be Concerned (Minor Prophets): Making a Difference in Your Lifetime
12. Be Confident (Hebrews): Live by Faith, Not by Sight
13. Be Counted (Numbers): Living a Life That Counts for God
14. Be Courageous (Luke 14-24): Take Heart in Christ's Example
15. Be Daring (Acts 13-28): Put Your Faith Where the Action Is
16. Be Decisive (Jeremiah): Taking a Stand for the Truth (The BE Series Commentary)
17. Be Delivered (Exodus): Finding Freedom by Following God (The BE Series Commentary)
18. Be Determined (Nehemiah): Standing Firm in the Face of Opposition
19. Be Diligent (Mark): Serving Others as You Walk With the Master Servant
20. Be Distinct (2 Kings and 2 Chronicles): Standing Firmly Against the World's Tides
21. Be Dynamic (Acts 1-12) (The BE Series Commentary)
22. Be Encouraged (2 Corinthians): God Can Turn Your Trials into Triumphs (The BE Series Commentary)
23. Be Equipped (Deuteronomy): Acquiring the Tools for Spiritual Success
24. Be Exultant (Psalms 90-150): Praising God for His Mighty Works (The BE Series Commentary)
25. Be Faithful (1 & 2 Timothy, Titus, Philemon): It's Always Too Soon to Quit!
26. Be Free (Galatians): Exchange Legalism for True Spirituality
27. Be Heroic (Minor Prophets): Demonstrating Bravery by Your Walk
28. Be Holy (Leviticus): Becoming Set Apart for God
29. Be Hopeful (1 Peter): How to Make the Best of Times Out of Your Worst of Times
30. Be Joyful (Philippians): Even When Things Go Wrong, You Can Have Joy
31. Be Loyal (Matthew): Following the King of Kings
32. Be Mature (James): Growing Up in Christ
33. Be Obedient (Genesis 12-24): Learning the Secret of Living by Faith
34. Be Patient (Job): Waiting On God in Difficult Times (The BE Series Commentary)
35. Be Ready (1 & 2 Thessalonians): Living in Light of Christ's Return
36. Be Real (1 John): Turning from Hypocrisy to Truth
37. Be Resolute (Daniel): Determining to Go God's Direction
38. Be Responsible (1 Kings): Being Good Stewards of God's Gifts
39. Be Restored (2 Samuel & 1 Chronicles): Trusting God to See Us Through (The BE Series Commentary)
40. Be Reverent (Ezekiel): Bowing Before Our Awesome God
41. Be Rich (Ephesians): Gaining the Things That Money Can't Buy
42. Be Right (Romans): How to Be Right With God, Yourself, and Others
43. Be Satisfied (Ecclesiastes): Looking for the Answer to the Meaning of Life (The BE Series Commentary)
44. Be Skillful (Proverbs): God's Guidebook to Wise Living
45. Be Strong (Joshua): Putting God's Power to Work in Your Life (Old Testament "Be")
46. Be Successful (1 Samuel): Attaining Wealth That Money Can't Buy
47. Be Transformed (John 13-21): Christ's Triumph Means Your Transformation
48. Be Victorious (Revelation): In Christ You Are an Overcomer
49. Be Wise (1 Corinthians): Discern the Difference Between Man's Knowledge and God's Wisdom
50. Be Worshipful (Psalms 1-89): Glorifying God for Who He Is
-WIERSBE BIBLE STUDY SERIES (47 STUDIES)
1. 1 & 2 Thessalonians: Living in Light of Christ's Return
2. 1 & 2 Timothy, Titus, Philemon: It's Always Too Soon to Quit
3. 1 Corinthians: Discern the Difference Between Man's Knowledge and God's Wisdom
4. 1 John: Turning From Hypocrisy To Truth
5. 1 Kings: Being Good Stewards of God's Gifts
6. 1 Peter: How to Make the Best of Times Out of Your Worst of Times
7. 1 Samuel: Attaining Wealth That Money Can't Buy
8. 2 Corinthians: God Can Turn Your Trials Into Triumphs
9. 2 Kings & 2 Chronicles: Standing Firmly Against the World's Tides
10. 2 Peter, 2 & 3 John, Jude: Beware of the Religious Imposters
11. 2 Samuel and 1 Chronicles: Trusting God to See Us Through
12. Acts: Put Your Faith Where the Action Is
13. Colossians: Become the Whole Person God Intends You to Be
14. Daniel: Determining to Go God's Direction
15. Deuteronomy: Acquiring the Tools for Spiritual Success
16. Ecclesiastes: Looking for the Answer to the Meaning of Life
17. Ephesians: Gaining the Things That Money Can't Buy
18. Exodus: Finding Freedom by Following God
19. Ezekiel: Bowing Before Our Awesome God
20. Galatians: Exchange Legalism for True Spirituality
21. Genesis 1-11: Believing the Simple Truth of God's Word
22. Genesis 12-25: Learning the Secret of Living by Faith
23. Genesis 25-50: Exhibiting Real Faith in the Real World
24. Hebrews: Live by Faith, Not by Sight
25. Isaiah: Feeling Secure in the Arms of God
26. James: Growing Up in Christ
27. Jeremiah: Taking a Stand for the Truth
28. Job: Waiting on God in Difficult Times
29. John: Get to Know the Living Savior
30. Joshua: Putting God's Power to Work in Your Life
31. Judges: Accepting the Challenge to Confront the Enemy
32. Leviticus: Becoming "Set Apart" for God
33. Luke 1-13: Let the World Know That Jesus Cares
34. Luke 14-24: Take Heart from Christ's Example
35. Mark: Serving Others as You Walk With the Master Servant
36. Matthew: Following the King of Kings
37. Minor Prophets Vol. 1 - Restoring an Attitude of Wonder and Worship
38. Minor Prophets Vol. 2 - Demonstrating Bravery by Your Walk
39. Minor Prophets Vol. 3 - Making a Difference in Your Lifetime
40. Nehemiah: Standing Firm in the Face of Opposition
41. Numbers: Living a Life That Counts for God
42. Philippians: Even When Things Go Wrong, You Can Have Jo
43. Proverbs: God's Guidebook to Wise Living
44. Psalms: Glorifying God for Who He Is
45. Revelation: In Christ You Are an Overcomer
46. Romans: How To Be Right With God, Yourself And Others
47. Ruth/Esther: Doing God's Will Whatever the Cost